Middleburg, Virginia | AUGUST 18-21, 2022
Presented by award-winning chef and author Kwame Onwuachi, The Family Reunion is a first-of-its-kind food event, inspired by the time-honored family reunions of his ancestors, as well as the culinary and cultural heritage of his Afro-Caribbean roots.
The inaugural multi-day celebration of diversity in the hospitality industry, was in August of 2021 at Salamander Resort & Spa in Middleburg, Virginia, in the state's picturesque horse and wine country.
In partnership with FOOD & WINE and Sheila C. Johnson, Founder and CEO of Salamander Hotels & Resorts, the groundbreaking annual event featured cooking demos, wine tastings, exclusive dinners and discussions with industry leaders. Past panel guests include Carla Hall, Nina Compton, Carlton McCoy, Mashama Bailey, Rodney Scott, Gregory Gourdet, Tavel Bristol-Joseph and Pierre Thiam.
In addition to celebrating the Black and Brown cooking traditions that have shaped American cuisine, The Family Reunion also showcases the next generation of food and wine professionals currently moving the industry forward.
Sign Up for 2022 Event Updates
Stay up to date on ticket sales and event details for the 2nd Annual Family Reunion at Salamander Resort & Spa on August 18 - 21, 2022.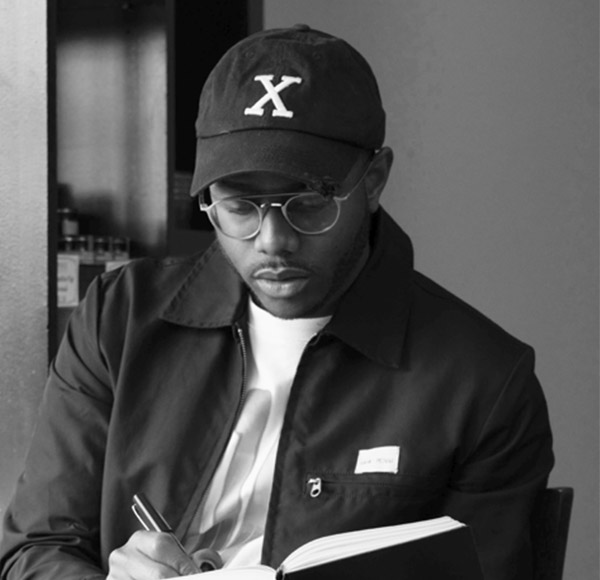 Kwame Onwuachi
Kwame Onwuachi is a James Beard Award-winning chef, and author of the critically acclaimed memoir "Notes from a Young Black Chef," which is being turned into a feature film by A24. Kwame's resume is incomparable: he has been named one of Food & Wine's Best New Chefs, Esquire Magazine's 2019 Chef of the Year, and is a 30 Under 30 honoree by both Zagat and Forbes. He's also been featured on Time's 100 Next List and has been named the most important Chef in America by the San Francisco Chronicle.
"I noticed a void in the industry, especially for the amplification of Black and Brown voices and their contributions to the food industry. I always pictured an event that was centered around them."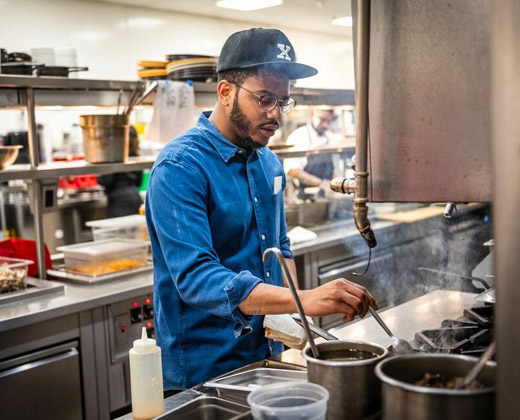 /
Featured Partner
Salamander Hotels & Resorts delivers comfortable luxury through the celebration of holistic diversity, a truly authentic sense of place, and signature, immersive experiences that personally enrich the lives of its guests. The company is privately owned and operated, and based in Middleburg, VA, just outside Washington, D.C. Founded by entrepreneur Sheila Johnson in 2005, it has a luxury portfolio featuring the stunning Salamander Resort & Spa in Middleburg, a 340-acre equestrian-inspired property near Washington, D.C.; Half Moon, the iconic luxury resort in Montego Bay, Jamaica; Hotel Bennett, a spectacular new hotel in Charleston, SC, overlooking the city's historic Marion Square and Innisbrook Resort in Tampa Bay, FL which hosts the PGA TOUR's Valspar Championship each year on its Copperhead Course.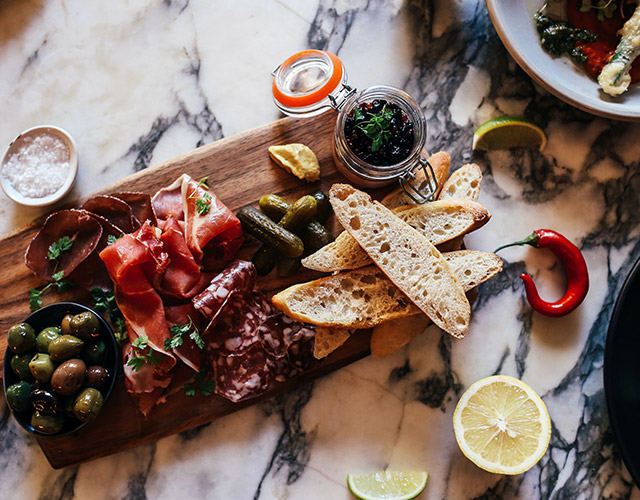 Featured Partner
For more than 40 years, from classic to cutting-edge, Food & Wine has defined the American epicurean experience. With the confidence of undisputed global authority among consumers and the culinary trade, we inspire and empower our wine and food obsessed community to discover, create, and devour the best in food, drink, travel, and home.
Our 2021 Partners
The Family Reunion enjoys sponsorship support from FOOD & WINE, Rémy Martin, Lexus, Virginia Tourism Corporation, Brett Johnson Collection, United Airlines, Sheila Johnson Collection, Williams-Sonoma, Visit Loudoun, Resy and American Express, the Town of Middleburg, McBride Sisters Collection and McEnearney Associates.
2021 Event Schedule
9:00 am - 4:00 pm
Salamander Resort & Spa
Lexus Drive Experience
Enjoy Lexus as a passenger or driver with this complimentary, 30-minute drive experience. Please visit the Lexus desk to sign up.
1:00 - 5:00 pm
Middleburg Terrace
Welcome Reception: The Cook Out
Rodney Scott and Bryan Furman will be cooking a full pit BBQ while Ben's Chili Bowl will be slinging half-smokes. From ribs to collards to banana pudding, there will be something for everyone, including wine curated by Julia Coney to compliment the smoke show.
Hosted by Ben's Chili Bowl and pitmasters Bryan Furman and Rodney Scott
5:00 - 10:00 pm
Middleburg
Town of Middleburg Restaurant Takeover
Featuring Tiana Gee, Dawn Burrell, Rashida Holmes and Ashleigh Shanti
To reserve, please call the participating Town Takeover Restaurants directly.
Town Takeover is not included in the overnight package or multi day-only pass.
Reservations are recommended.
10:00 pm - 1:00 am
Living Room
After Glow: Rémy Martin Sidecar Lounge
7:00 - 9:00 am
Living Room
Continental Breakfast
9:00 am - 4:00 pm
Salamander Resort & Spa
Lexus Drive Experience
Enjoy Lexus as a passenger or driver with this complimentary, 30-minute drive experience. Please visit the Lexus desk to sign up.
Representation Matters: Has it Worked?
Moderated by Melyssa Ford with Jon Gray and Erick Williams
10:15 - 11:15 am
Grand Stage
Old Guard to New Trope: Passing the Torch
With Alexander Smalls, Tiana Gee, Dawn Burrell, Rashida Holmes and Ashleigh Shanti
11:30 am - 12:30 pm
Grand Stage
Restaurant Crisis: More Than A Chef
With Dine Diaspora, Nina Compton, Pierre Serrao and Gregory Gourdet
1:00 - 3:00 pm
Middleburg Terrace
Family-Style Lunch
Hosted by Erick Williams, Tavel Bristol-Joseph and Vallery Lomas
BREAKOUT SESSIONS
*pre-registration required
3:30 - 5:00 pm
Delaplane Terrace
Shaken & Stirred – Interactive Mixology Class
Presented by Cointreau
Led by Shannon Mustipher
3:30 - 5:00 pm
Harrimans Firepit
Jerk: The Dish That Freed a Nation
Led by Andre Fowles and Peter Prime
3:30 - 5:00 pm
Lower Culinary Garden
The History of Suya
Led by Pierre Thiam and Michael Elégbèdé
3:30 - 5:00 pm
Upper Culinary Garden
BBQ 101
Led by Rodney Scott and Bryan Furman
Conversation with Padma Lakshmi
Discussing her new book, Tomatoes for Neela
Moderated by Angela Rye
3:30 - 5:00 pm
Middleburg Terrace
Grace the Musical: Welcome to Our Table
Led by Nolan Williams, Jr.
3:30 - 5:00 pm
Equestrian Center
Equestrian Trot
Led by Kwame Onwuachi
3:30 - 5:00 pm
Salamander Resort & Spa
Ziplining
Led by Gregory Gourdet
3:30 - 5:00 pm
Salamander Resort & Spa
Axes and Archery
Led by Mashama Bailey
3:30 - 6:00 pm
Delaplane Cellars
Black-Owned Wine Tasting
Led by Carlton McCoy, Nadine Brown and Julia Coney
6:00 - 10:00 pm
Grand Stage
African Night Market
Join us as we celebrate African culture with food curated by some of the best African chefs in the world. Enjoy dancers, drummers, African food, a dance floor and more.
Food by: Pierre Thiam, Kwame Onwuachi, Michael Elégbèdé, J.R. Robinson, and Peter Prime
10:00 pm - 12:00 am
Culinary Garden
Night Cap: The Wine Down
Hosted by Carlton McCoy
10:00 pm - 1:00 am
Living Room
After Glow: Rémy Martin Sidecar Lounge
Scroll for more
7:00 - 9:00 am
Living Room
Continental Breakfast
9:00 am - 4:00 pm
Salamander Resort & Spa
Lexus Drive Experience
Enjoy Lexus as a passenger or driver with this complimentary, 30-minute drive experience. Please visit the Lexus desk to sign up.
West Africa and How it Inspired a Globe
With Jamila Robinson, Michael Elégbèdé, Vallery Lomas and Pierre Thiam
10:15 - 11:15 am
Grand Stage
The Things We Do For Love
With Padma Lakshmi and Carla Hall
11:30 am - 12:30 pm
Grand Stage
Stories from the Matriarch and Friends: Then vs Now
With Nyesha Arrington, Virginia Ali, Tiffany Derry, Mashama Bailey
1:00 - 3:00 pm
Middleburg Terrace
Family-Style Lunch
Hosted by Mashama Bailey, Jonny Rhodes, Gregory Gourdet and Jason Reaves
3:30 - 6:30 pm
Grand Stage
Special Presentations
3:30 - 3:45 pm
Grand Stage
Share Our Strength No Kid Hungry Presentation
Working to end hunger and poverty, Share Our Strength's Elliott Gaskins joins Chefs Kwame Onwuachi and Tiffany Derry for a brief reflection on the power of food, community, and why they support No Kid Hungry.
3:45 - 4:00 pm
Grand Stage
A Performance by Grace The Musical
Conceived and composed by Nolan Williams, Jr. Featured cast performers: Nova Payton and Virginia Woodruff, accompanied by Paul Byssainthe, Jr.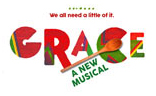 4:00 - 4:30 pm
Grand Stage
Lifetime Achievement Award
Sponsored by Remy Martin and presented by Dr. Jessica B. Harris honoring Virginia Ali
5:30 - 6:30 pm
Grand Stage
Talent Book Signing
Moderated by Nyesha Arrington with Virginia Ali, Tiffany Derry, and Mashama Bailey
6:00 - 10:00 pm
Middleburg Terrace
Block Party
There is no better way to cap off a Family Reunion than a Block Party. Join us as we dance the night away to the tunes of a special guest while feeding our soul with delicious food from Kwame Onwuachi, Tiffany Derry, Nina Compton and Andre Fowles.
10:00 pm - 12:00 am
Culinary Garden
Night Cap: The Wine Down
Hosted by Carlton McCoy with food provided by Lamar Moore
10:00 pm - 1:00 am
Living Room
After Glow: Rémy Martin Sidecar Lounge
Scroll for more
9:00 am - 11:00 am
Salamander Resort & Spa
Lexus Drive Experience
Enjoy Lexus as a passenger or driver with this complimentary, 30-minute drive experience. Please visit the Lexus desk to sign up.
10:00 - 10:45 am
Grand Stage
Sunday Service With Baltimore Urban Inspiration Choir
Uplifting gospel music by Baltimore Urban Inspiration Choir.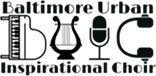 COVID-19 Protocols
The safety of our attendees, staff and community are of the highest priority. Therefore, in response to a nationwide increase in cases, we have updated our COVID-19 protocols:
The vast majority of our events and activities are being held outdoors at Salamander Resort & Spa, which is set on 340 acres.
Our inaugural capacity is limited to a few hundred attendees to enable everyone to more easily socially distance.
Irrespective of your vaccination status, all attendees must present a negative COVID-19 PCR or Rapid Antigen test upon arrival to receive your event pass. Your test must be dated with 72 hours of your arrival time. This applies for both weekend guests and evening event-only guests.
All attendees must wear masks inside unless actively eating or drinking.
All attendees must wear masks outside, unless actively eating or drinking or socially distanced by six feet.
Unvaccinated guests should wear masks at all times, not already covered by the above.
We will perform a daily temperature check.
Salamander service staff, chefs and talent will wear masks throughout the duration of the event.
We will have a mobile check-in available to overnight guests.
Event regulations, policies and protocols are under constant review. Please view Salamander Resort & Spa's extensive list of COVID protocols and its Commitment to Well-Being.
Press Contact
For media inquiries related to The Family Reunion, please contact Matt Owen, Vice President of Communications for Salamander Hotels & Resorts at [email protected].
Content Library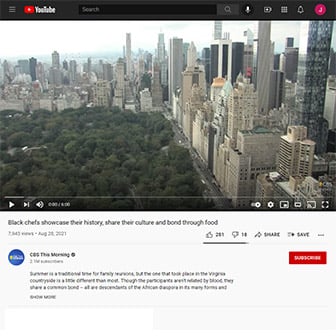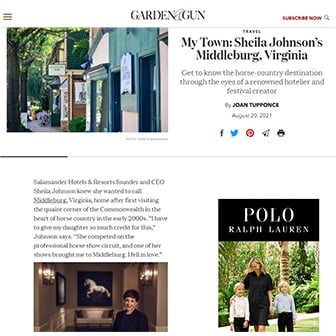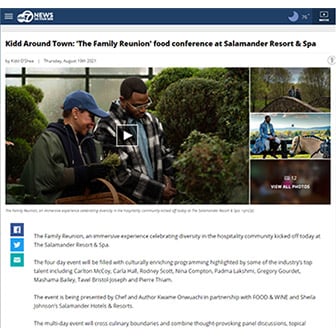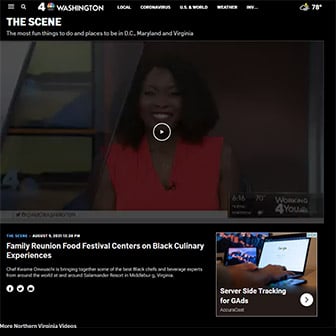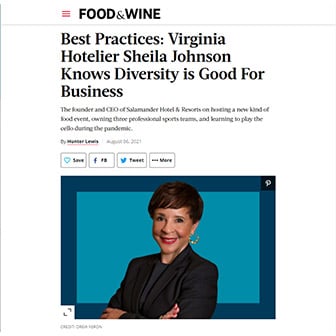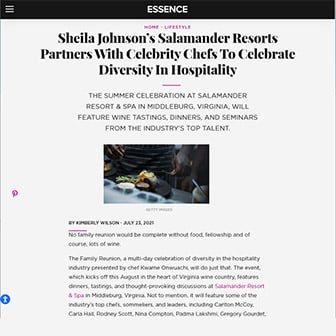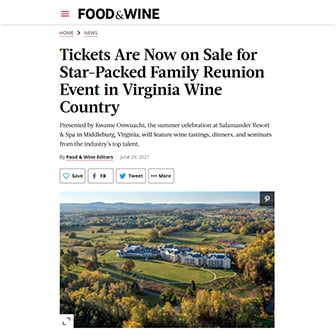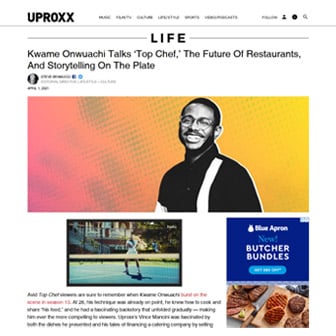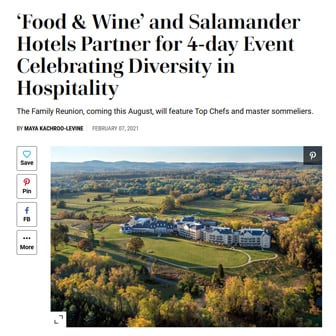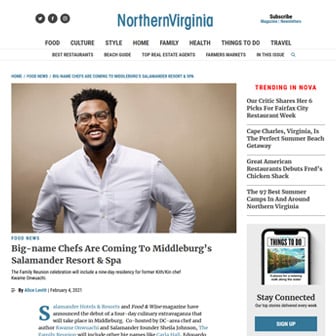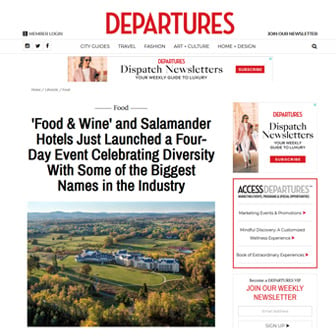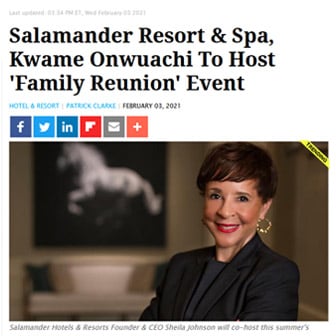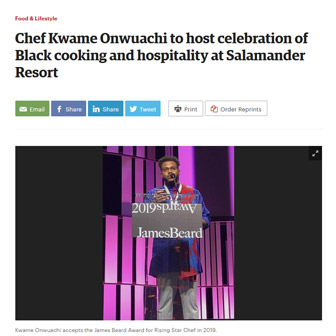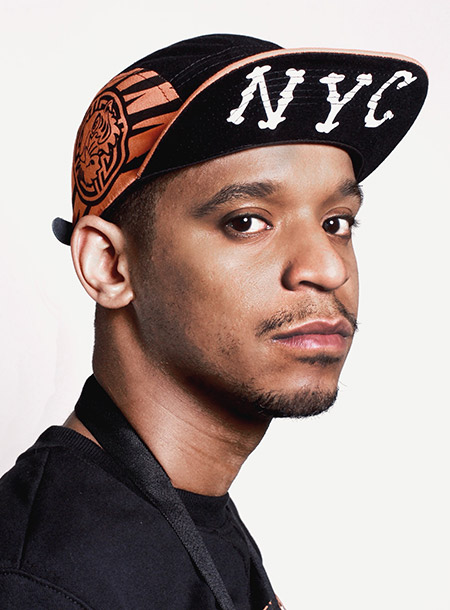 Roblé Ali
Executive Chef, Roblé & Co.
Roblé Ali has quickly become one of the most recognizable chefs and one of the very few young African-Americans in the culinary world with national notoriety. The influential and charismatic chef has provided his services to some of today's most notable individuals including President Obama, Leonardo DiCaprio, John Legend, Jack Nicholson, Michael Jackson, Vanessa Williams, the Olsen Twins and Rhianna to name a few.
Growing up, Roblé was always fascinated with food and cooking. He showed talent in the kitchen at a young age after learning from his grandfather, professional Chef Jesse Harris Sr. At 15, Roblé returned to his hometown of Poughkeepsie and began working in his first professional kitchen and continued to develop as a chef throughout his high school years. Upon graduation, he enrolled at the Culinary Institute of America in Hyde Park, NY where he broadened his knowledge of food. On the search for greater opportunities, Roblé moved to Brooklyn and began cooking in top restaurants and catering establishments throughout NYC.
Roblé worked through the ranks as the youngest Sous Chef ever at Abigail Kirsch, an elite New York catering company. He worked side by side with Chef Chris Santos of Food Networks Chopped and on the opening of his ultra hip restaurants Stanton Social and Beauty & Essex. After quickly being identified as one of the hottest up-and-coming chefs, nightlife mogul, Noah Tepperberg ( Marquee NYC / LV - Lavo NYC/ LV & Tao NYC/LV) hired Roblé as Executive Chef to open Avenue - and exclusive gastro-lounge in Manhattan.
Realizing it was time to go out on his own, Roblé launched his catering business, Roblé & Co. With his unique team of talented chefs and event producers, Roblé creates captivating, one of a kind dining experiences for high-end clientele across the country and the world. The launch of his business was captured in Bravo's culinary docudrama, Chef Roblé & Co. In addition to his catering company, Roblé is currently at work on multiple projects, which include his soon to be released bottled sauces "The Saucerer", a book, apparel line, philanthropy and his upcoming restaurant "MOMIO" by Roblé. Roblé is currently the food corespondent for the Dr. Oz show.
He currently resides in Brooklyn where you will probably find him biking around the neighborhood with his trusty sidekick and best friend pooch "Boy Boy" and checking out the local food scene.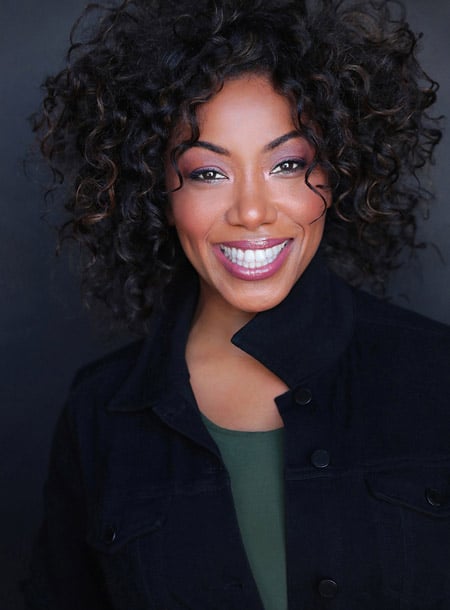 Nyesha Joyce Arrington
Chef and Host, Happy Mouth Podcast
Chef Nyesha J. Arrington is a California native born into a multicultural family, best known for her accomplishments as a chef, restaurateur, entrepreneur and TV personality. Arrington was introduced to diverse culinary experiences at an early age, which has continually shaped her palate development and perspective of culture-informed cooking.
By integrating flavors and techniques from around the world, Arrington is able to create a global style that is both personal and unparalleled. Arrington is celebrated for her advocacy of using farm fresh, local and responsibly-sourced ingredients with purveyors and artisans in turn ardently supporting her culinary vision.
A graduate of the Art Institute of California in Los Angeles, Arrington has been praised by the likes of legendary Chef Joel Robuchon, Chef Claude Le Tohic and Pulitzer prize-winning critic Jonathan Gold, who went on to place both of Arrington's dining concepts in his iconic list of 101 Best Restaurants, proclaiming that: "Her food tastes like LA".
Chef Arrington has headlined the Austin Food & Wine Festival, New York Wine & Food Festival and has been featured on the covers of Rachael Ray Everyday and Delta Sky Magazine. Ms Arrington's recipes have also graced the pages of Food & Wine Magazine, GQ and Bon Appétit, as well as appeared on formidable networks such as HBO Max, Discovery+, Food Network, Cooking Channel, Vox, and Essence magazine.
Arrington's greatest enthusiasm will always be to champion her community and create "Food that Hugs the Soul." She continues to innovate and draw inspiration from her vibrant cultural background and French-technique while upholding her mission to spread the message of love through food, using every plate as a new journey of discovery.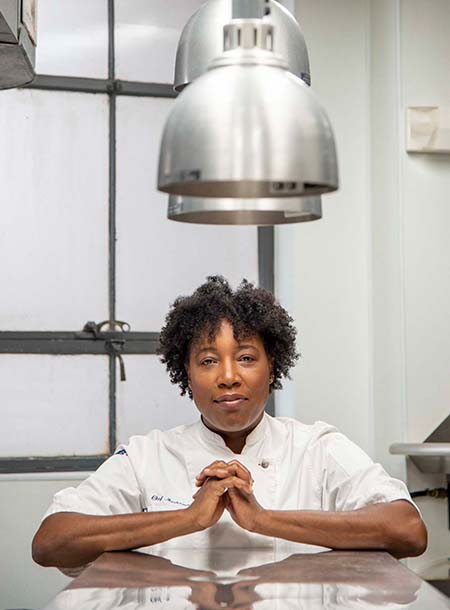 photo by Chia Chong
Mashama Bailey
Executive Chef, The Grey
Mashama Bailey is the award-winning executive chef and partner of the critically acclaimed The Grey, set in a former Greyhound bus terminal in Savannah, Georgia as well as all-day counterpart The Grey Market in partnership with Johno Morisano. Since opening in December 2014, The Grey itself has earned a number of accolades, including being named a Food & Wine Restaurant of The Year, one of TIME Magazine's "The World's Greatest Places" and a semifinalist for the James Beard Foundation's Best New Restaurant award, thanks in large part to Mashama's flavorful dishes that highlight regional ingredients. In 2018, Mashama and Johno opened The Grey Market, combining their love for New York City bodegas - the true lifeblood of any New Yorker - with the history and convenience of the Southern lunch counter. With the premiere of Netflix's Chef's Table Season 6, Mashama became the first African American chef to star on the show. Mashama is the chairwoman of the Edna Lewis Foundation, whose mission is to honor and extend the legacy of Edna Lewis by creating opportunities for African Americans in the fields of cooking, agriculture, food studies, and storytelling. In January 2021, Mashama and Johno debuted their first co-written culinary memoir, Black, White and The Grey, which tells the story of their distinct partnership and how the two - a Black female chef and a White male entrepreneur - came together to build a restaurant attempting to reshape cultural conversation beyond food.
Mashama's book: Black, White, and The Grey
@mashamabailey, @thegreysavannah, @thegreymkt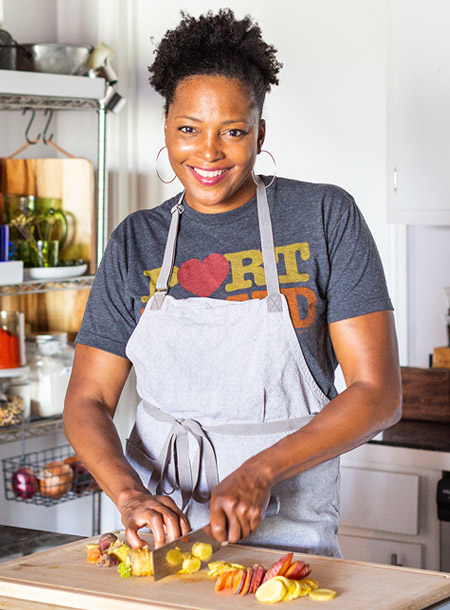 photo by Jenn Duncan
Dawn Burrell
Chef/Partner Late August Restaurant & Lucille's Hospitality Group
Traveling the world with the USA's Track & Field team ignited Chef Dawn Burrell's deep love for the language of food. The 2000 Olympian eventually traded in her track spikes for a full-time culinary career, cutting her teeth with everyone from Chef Tom Aikens in London to Houston's Monica Pope before landing a gig with Uchi Houston — a move that led to a sous chef position at its award-winning sister restaurant Uchiko in Austin. An Executive Chef title at modern Southern restaurant Kulture followed, where she honed her signature "global comfort" cooking style.
Following three years at the helm of Kulture, Chef Dawn snagged her first James Beard nomination for "Best Chef: Texas" in 2020 before her eventual departure during the COVID-19 pandemic. As Partner/Executive Chef of Late August — Burrell's very first proprietary concept via Lucille's Hospitality Group — she brings the soul of Afro-Asian flavors to the table with an August 2021 debut. Chef Dawn competes on the 18th season of Bravo TV's hit show Top Chef, airing April 2021.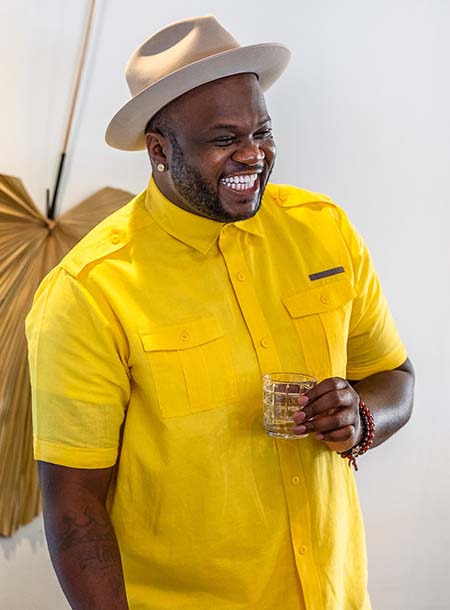 Tavel Bristol-Joseph
Pastry Chef / Partner of Emmer & Rye, Henbit, TLV, Hestia and Kalimotxo
Tavel Bristol-Joseph is the Pastry Chef and Partner at Emmer & Rye, Hestia, Kalimotxo, Henbit and TLV in Austin, TX. He began his culinary journey as a young boy when he spent every Saturday afternoon baking cookies, cakes, and pies with his aunt. After moving to the United States from Georgetown, Guyana when he was seventeen years old, Bristol-Joseph attended the New York Restaurant School.
Bristol-Joseph worked in a variety of restaurants in New York before moving to Tucson in 2006, where he joined Fox Restaurant Concepts. He worked within the restaurant group for two years before going to Zona 78 where he met and began working with Chef Kevin Fink.
Fink and Bristol-Joseph decided to move to Austin to open Emmer & Rye in November 2015. Emmer & Rye has been included in Bon Appétit's "America's Best New Restaurants 2016" list, as well as named Austin American-Statesman's "2018 Best Restaurant in Austin." Bristol-Joseph also received the StarChefs Rising Star Award in 2017 and this year he was named one of FOOD & WINE Magazine's "Best New Chefs of 2020."
Overcoming many struggles and challenges growing up have helped Bristol-Joseph continue his path towards success. He always believed he would have a brighter tomorrow, even though his childhood where he was poor, sleeping on floors for most of his life, he kept his believing in himself and knew that through hard work he would reach his goals. Bristol-Joseph, resides in Austin with his girlfriend Britney and his dog Gus Gus.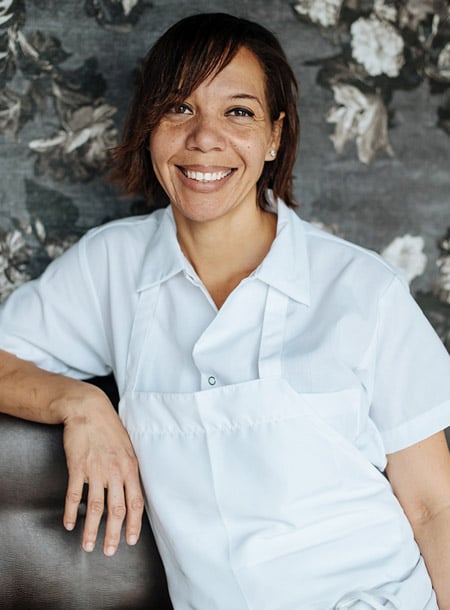 photo by Denny Culbert
Nina Compton
Chef, Compère Lapin and Bywater American Bistro
James Beard Award-Winning Chef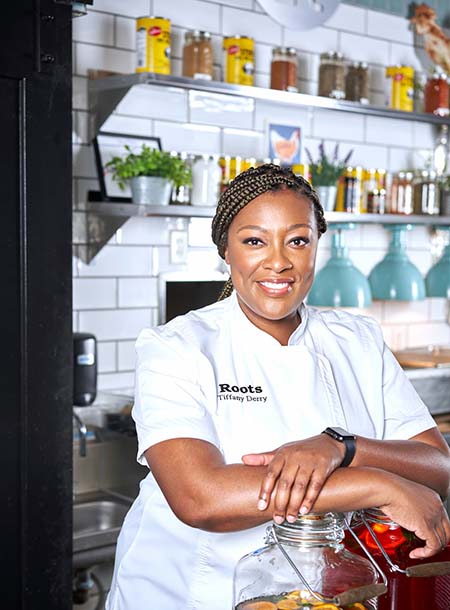 Tiffany Derry
Chef and Owner | Roots Chicken Shak, Roots Southern Table
Founder Tiffany Derry Concepts
Co-Founder | T2D Concepts
Beaumont, Texas native Tiffany Derry is the founder of Tiffany Derry Concepts and co-founder of T2D Concepts, the Texas-based purpose-driven hospitality group behind Roots Chicken Shak, Roots Southern Table (opening spring 2021), and 'Shef Tiffany spice and apparel line.
Tiffany knew her purpose was to be in the kitchen from an early age. Growing up on her family's farm in the South, farm-to-table eating wasn't a trend, it was a way of life—eating with the seasons, canning and preserving fresh-picked fruits and vegetables, fresh pies on the counter, never letting anything go to waste. Her grandmother always welcomed guests to her kitchen with love and taught Tiffany that cooking is more than just putting a few ingredients together—it's a passion.
This propelled Tiffany to apply to her first cooking job at the age of 15 at IHOP, which she was denied from because of her race and gender and was hired as a server instead. Tiffany was eventually given the opportunity to cook when the kitchen was understaffed, and she stepped in and stepped up. In just a short amount of time, she was promoted to kitchen management, making her the youngest person to hold a managerial role in the restaurant.
Tiffany earned her culinary degree from the Art Institute of Houston and deepened her appreciation for different cuisines and cultures through the study abroad program that took her to Costa Rica, Mexico, Italy, France, China, and Hawaii. Tiffany went on to cook in esteemed kitchens throughout Texas including Pesce, Grotto Cucina Napolitano, and Go Fish Ocean Club. In 2010, Tiffany teamed with the Halstin Group to open Private|Social in Dallas to much fanfare, including a 4-star review and a "Best Chefs in DFW" title from The Dallas Morning News.
Tiffany then decided to break out on her own and founded Tiffany Derry Concepts in 2013, a company established to support her business and culinary ventures including television shows, brand partnerships, a fast-casual concept, The Cupboard by Tiffany Derry.
Tiffany stepped into the spotlight when she appeared on Bravo's Top Chef Season 7, earning the title of "fan favorite" and finishing in the top four. Derry's quiet confidence, warm southern charm, and culinary expertise made her a natural selection for Top Chef: All-Stars, where she was again a finalist. Tiffany was also a series host on Spike TV's Hungry Investors and Bar Rescue alongside Jon Taffer. She has made multiple guest appearances The Food Network's Chopped Junior and Bobby's Dinner Battle and on NBC's Foodfighters. Currently, Tiffany serves as a recurring advisor and judge on Top Chef, Top Chef Junior, and Bar Rescue.
In 2016, Tiffany and her business partner Tom Foley, Esq. founded T2D Concepts, which operates her current restaurants and her spice and apparel line. Fueled by a spirit of service and a deep-rooted hunger to drive social change, T2D aims to bridge the gender and racial wealth gap in the hospitality industry through the power of good food and meaningful dialogue around the table.
Outside of her restaurants, Tiffany is a fierce advocate for social justice and equity across gender, race, and food access. She spends much of her spare time lobbying politicians to pass sustainable and healthy food polices—she was integral in getting the farm bill updated in 2013. Tiffany serves as a member of Les Dames d'Escoffier, a spokesperson for the James Beard Foundation's sustainability efforts, an ambassador for diabetes organization Novo Nordisk, and sits on the Board of Directors for Food Policy Action.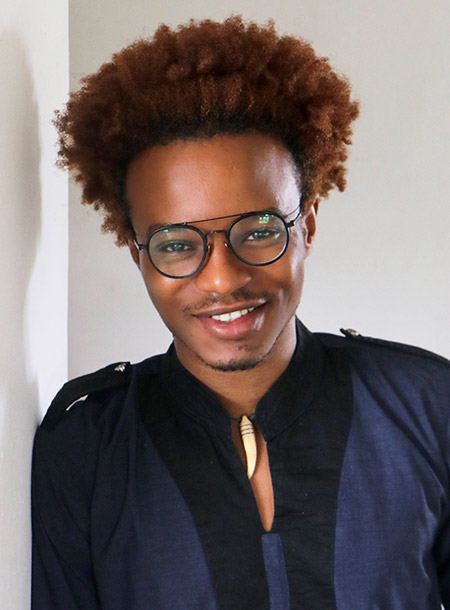 Michael Elégbèdé
Chef/Owner, ÌTÀN
Chef Michael Elégbède is a contemporary Nigerian Chef rediscovering, redefining and reinterpreting ingredients and cuisines around Nigeria in a creative and imaginative way.
Born in Lagos, Nigeria, the urban center of one of the most diverse country in Africa, Elégbèdé grew up in a vibrant food cultured home before moving to the United States.
Moving back home after 13 years, and traveling the country cooking with the locals inspired a holistic approach to understanding the various cuisines of the country which saw him to collate traditional recipes, ingredients and age old methodologies with a clearer understanding that Nigeria is a country of over 200 million people, 250 ethnic groups and a history of varying migrations of different peoples bringing their produce, modes of food preparation and palate preferences to the larger food canon.
Chef is currently working from his test kitchen in Ikoyi, Lagos call ÌTÀN Test Kitchen. As alluded to in the name, the test kitchen endeavors to tell the story of Nigerian cuisine with a personal touch, made from locally sourced ingredients, using both ancient and modern culinary methods. ÌTÀN uses the fine dining approach to bring Nigerian cuisine, as it's never been seen before, to the cultural center that is the city of Lagos.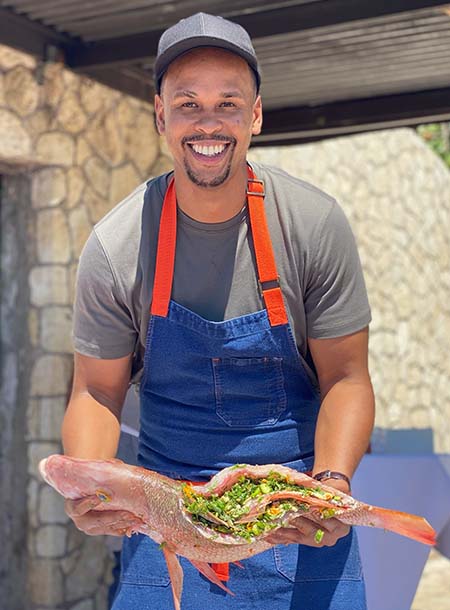 Andre Fowles
Chef, 3X Food Network
"Chopped" Champion
Miss Lily's
Chef Andre Fowles is a native of the beautiful island of Jamaica, where he grew up around delicious food made by his grandmother. She taught him the art of "down home" cooking, using simple ingredients made with lots of love and delicious flavors. He then received his classical training from the prestigious Culinary Institute of America in New York.
After graduating from the CIA, Andre worked in some of Jamaica's best restaurants and resorts, such as the award-winning Mac's Chop House with notable Chef Mario Machado, and the world-renowned Round Hill Hotel and Villas with Chef Martin Maginley. Andre returned to New York as Chef de Cuisine for the popular Jamaican-inspired restaurant, Miss Lily's, where he ran both locations serving up his unique and modern take on Caribbean flavors. Andre was quickly nominated for Star Che New York, 2016. Andre left his full-time position with the restaurants to start his own hospitality company "Everything Food" by Chef Andre Fowles, which provides catering, private chef and consulting services, and more recently, online cooking classes.
Andre proudly represented Jamaica at the prestigious James Beard House, where he hosted two exclusive dinners, taking guests on a culinary adventure through his creative and global approach to Caribbean cuisine.
He has also presented cooking demonstrations at the Food Network SOBE Wine & Food Festival, Star Chef New York, Food & Wine, Bon Appetit events, the Daily Meal test kitchen in New York City and most recently with Munchies.
Most notably, Chef Fowles is a three-time Food Network "Chopped" Champion. He was also a finalist on the "Chopped" Grand Championship tournament. He has appeared as a contestant on "Beat Bobby Flay" and has cooked with top celebrity chefs such as Marcus Samuelsson and Nina Compton.
Chef Andre continues to showcase his philosophy about his approach to Caribbean culture through his food. He is currently working on his first cook book and line of unique spices and sauces to introduce the flavors he loves to the world.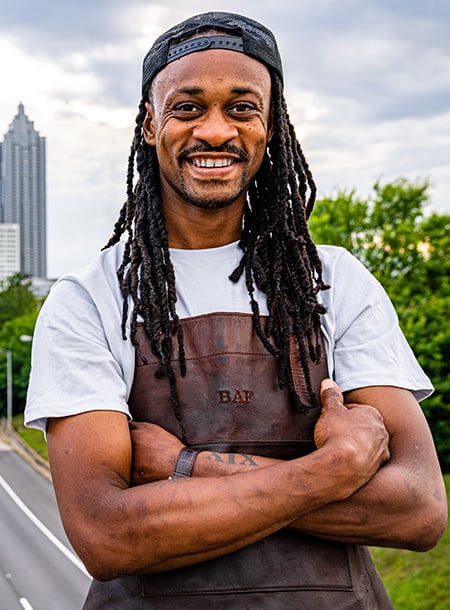 Bryan Furman
Chef/Owner, Pit Master, Bryan Furman BBQ
Known for his signature-style pit-smoked barbeque, Bryan was named one of Food & Wine's Best New Chefs in 2019 (the first pitmaster ever to receive the title) and was nominated as a James Beard Foundation semi-finalist for Best Chef Southeast 2019 and 2020. Formerly a welder by day, he launched a thriving catering business and became the pitmaster at one of the hottest restaurants in the Southeast, Bryan Furman BBQ in Atlanta. After losing his second restaurant in four years to fire, Bryan is actively working to open two Atlanta locations under his own name, as Bryan Furman BBQ.
Bryan recently completed a Residency at Stone Barns Center for Food & Agriculture and Blue Hill restaurant. He focused on heritage hog breeds, seasonal side dishes where he used Hudson Valley produce, as well as the intricate science of choosing woods for smoking. His meals were served outdoors, in a casual, festive atmosphere, where diners were invited to explore the farm before or after their meal to learn more about the ingredients and practices behind the experience.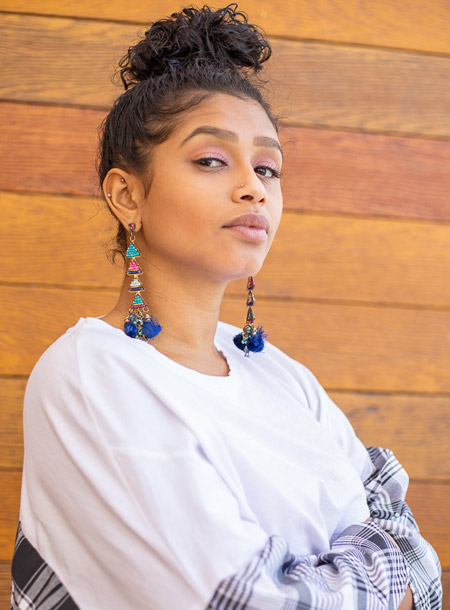 Tiana Gee
Private Chef and Caterer
Tiana Gee is a young Filipina and Black Los Angeles native who found her love for food at a very early age. Tiana Gee also known as Tee is breaking the mold on what it means to be considered a chef in today's day and age. She started off working in some amazing restaurants in the LA food scene where she then took her skills to New York to be the sous chef at her mentor, Marcus Samuelsson's Harlem eatery, Red Rooster. Tee is continuing to navigate in what we now know as the future of the food industry and is the star of her YouTube channel, "Cookin with Tee," where she shares some of her recipes and techniques for home cooks. Tee is now a talent at Bon Appetit and she's working on multiple projects to showcase her love for food, culture and adventure. Tee's latest project she's been working on is a heart-crafted pop up dinner series known as SoulPhil. SoulPhil is Tee's ode to her heritage and a delicious way to get a glimpse of who she really is. You can meet Tee and enjoy some of her staples and latest new menu items at Food & Wine's Family Reunion, Restaurant TakeOver!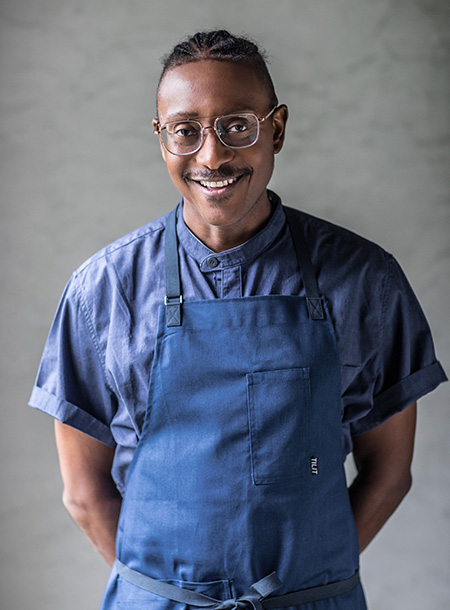 Gregory Gourdet
James Beard Award Nominated Chef and Owner, Kann
Chef Gregory Gourdet is the culinary mastermind from Portland, OR, most recently ending a 10 year run as the Executive Chef and Culinary Director for Departure Restaurant + Lounge, where he paired local ingredients with the bold flavors and traditions of Japan, China, Thailand, Vietnam, and Korea to create modern Asian fare. A James Beard Award nominee and native New Yorker from Queens, Gourdet honed his culinary skills within celebrity chef Jean-Georges Vongerichten's restaurant dynasty. Gourdet's extensive global travels to research and understand other cultures allow him to see Oregon's lush bounty through a global lens, producing a constantly evolving seasonal menu inspired by cooking methods and ingredients he has encountered during continuous trips to Asia, Europe and the Caribbean. He recently returned to Haiti for the first time in 20 years to reconnect with his cultural heritage, a trip that inspired Haitian cuisine to become a special part of his culinary repertoire.
A self proclaimed health freak and avid runner, Gourdet views food as nourishment, finding creative ways to mitigate food waste and utilize ingredients fully from root to stem. His mindful life approach shines through in his cooking, as he offers diners dishes that allow freshness, seasonality, and bold, alternative ingredients to star on the plate. Gourdet grew up enjoying ethnic cuisine, especially traditional Haitian dishes emphasizing fish, rice and beans, roasted meats, pickled chilies, coconut, and plenty of herbs. He graduated from the prestigious Culinary Institute of America in 2000. He landed a highly coveted internship with Vongerichten immediately after, whom he trained under for close to seven years at three of his New York City properties. In 2008, Gourdet arrived in Portland. In 2010, he took the reins at Departure, quickly gaining praise for his innovative dishes. In 2013, Gourdet was named Chef of the Year by the Oregon Department of Agriculture. He was dubbed Eater Portland's Chef of the Year in 2014. In 2015, his fame skyrocketed as he earned runner up in Bravo's Top Chef Season 12, the same year he was first named a semifinalist by the James Beard Foundation for Best Chef: Northwest. Gourdet has played an integral role in Portland's culinary boom over the past decade. After much acclaim, he went on to open the second location of Departure in Denver in the summer of 2016. In 2018, he was again named a semifinalist by the James Beard Foundation for Best Chef: Northwest. The same year, Gourdet appeared on Food Network's Iron Chef Showdown. In 2020 he competed on Bravo's Top Chef All Star Season 17, again ending as a finalist.The same year he received his first James Beard nomination for Best Chef Northwest & Pacific.
Chef Gregory officially calls Oregon home now and loves living in the food obsessed state. He has spent the last decade redefining Portland dining. Having served over 1.4 million guests at Departure Restaurant and having traveled the world representing the city and state, he is a household name. His signature flavors are adored for their seasonality, boldness, complexity and spice. Gourdet is a global chef that finds inspiration from every culture he has been touched by. He is most recently inspired by his Haitian heritage and looks forward to bringing Haitian cuisine into the American spotlight at his developing wood fired concept Kann Restaurant which is slated to open summer 2022. The restaurant will be Haitian cuisine focused but also honor the seasons, local ingredients and other global BIPOC cuisines in a healthy and sustainable way.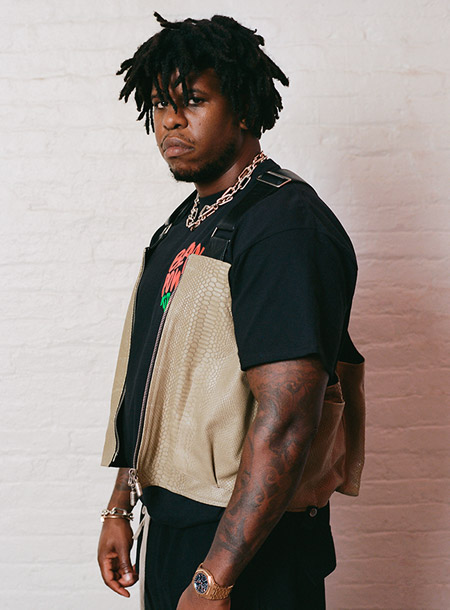 photo by Leilani Foster
Jon Gray
Co-Founder, Ghetto Gastro
Jon Gray is interesting because he is interested. His curiosity has taken him around the globe and has had him seated across the table from world renowned thinkers, artists and chefs, but he's most passionate about home. A cofounder of the Bronx based collective Ghetto Gastro, he's building his own proverbial table, to which he'd like to invite the world. Founded in 2012, Ghetto Gastro honors the block to block shifts and overlap in international cuisine and culture that happens in his borough. The collective is committed to feeding, inspiring and growing young entrepreneurs in the Bronx. Conversations about inclusion, race and economic empowerment are explored through food, as the group occupies the crossroads of design, music, film, visual art and cuisine.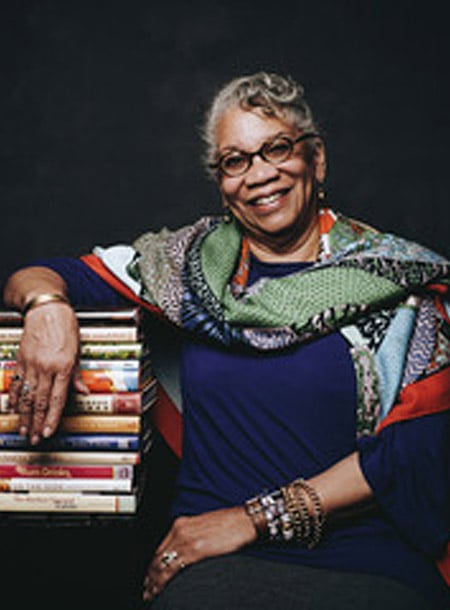 Dr. Jessica B. Harris
Food Historian, Award-Winning Author, Journalist
Dr. Jessica B. Harris, considered by many to be one of the ranking authorities on the food of the African Diaspora, is the author, editor, or translator of eighteen books including twelve cookbooks documenting the foodways of the African Diaspora. She is a sought-after speaker and has lectured widely and written extensively for scholarly and popular publications. Harris consults internationally and conceptualized the award-winning cafeteria of the Smithsonian Museum of African American History and Culture. She is currently leading the Culinary Institute of America's new African Diaspora Foodways initiative. Dr. Harris is also lead curator for the exhibit African/American: Making the Nation's Table to be presented by New York's Museum of Food and Drink in 2022.
Dr Harris holds numerous awards and accolades including an honorary doctorate of humane letters from Johnson & Wales University. In 2019, her food-related works were inducted into the James Beard Cookbook Hall of Fame and she is the 2020 James Beard Lifetime Achievement awardee. Dr. Harris taught at Queens College/CUNY, New York, for five decades and is currently professor emerita at that institution.
Rashida Holmes
Chef and Owner, Bridgetown Roti
Taste, value, and efficiency are the cornerstones of Chef Rashida Holmes' food and approach to the restaurant business. If those are in place, the love will flow onto the plate.
She began her career in 2008 in Baltimore working full time at a local italian restaurant while attending culinary school. In 2010 Holmes moved to Pittsburgh to work with the James Beard nominated Big Burrito group at their pan-Asian restaurant Soba. Shortly after moving to LA in 2013, she accepted a Chef de Cuisine position to open the French inspired Terrine in West Hollywood.
Holmes' experience with different cuisines, chefs, restaurants, and markets have given her a diverse perspective in this ever evolving industry. After positions as Executive Sous Chef at Freehand hotel and Botanica in Silverlake, Holmes' began the pop-up concept Bridgetown Roti in 2019, an ode to her Afro-Caribbean roots. By Fall of 2020 Chef Holmes and Bridgetown Roti had served thousands with her take on Caribbean classics. Today Bridgetown has gained media coverage highlights with features in the NY Times, Tastemade, Eater LA, and most recently made the LA Times Food 101: Pop-Ups list.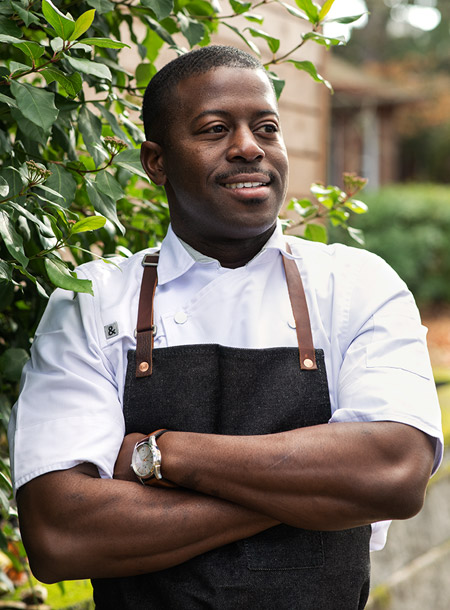 Edouardo Jordan
JBF Chef/Restaurateur - Power3 Marketing and Management
Edouardo Jordan was born and raised in St. Petersburg, Florida and attended college at the University of Florida. After graduating with dual degrees in business administration and sports management, Jordan decided to enroll in culinary school at the Le Cordon Bleu in Orlando. Following graduation from culinary school, Jordan's ambition brought him to renowned restaurants such as The French Laundry, where he apprenticed, Per Se, and Lincoln Ristorante in New York. With thoughts of raising a family and opening a restaurant in mind, Jordan moved to Seattle where he began working at Sitka and Spruce as Sous Chef. In 2013, Jordan was asked to open Bar Sajor as Chef de Cuisine and used this as an opportunity to learn as much as he could about opening a restaurant. Taking this knowledge and experience he had gained from Bar Sajor, Jordan officially opened the doors to his first restaurant, Salare, in June of 2015. Salare takes influences from France, Italy, the American south, and the Caribbean and has become one of Seattle's hottest restaurants. In April 2017, Chef Jordan opened his second restaurant, JuneBaby, which focuses on his roots and Southern Cuisine, which has received much attention both nationally and locally. Chef Jordan was nominated for a James Beard Award in 2016, and Salare was listed as a Best New Restaurant in America in 2016 by Eater National. He has been named one of Food & Wine's Best New Chef of 2016 and JuneBaby was titled Restaurant Best New Restaurant for 2018. Chef Jordan is a 2017 James Beard Award finalists, and received the prestigious 2018 James Beard Award for Best Chef Northwest and Best New Restaurant for JuneBaby Restaurant. In December of 2018 he opened his third restaurant, Lucinda Grain Bar, which focuses on heirloom, ancient, and local grains.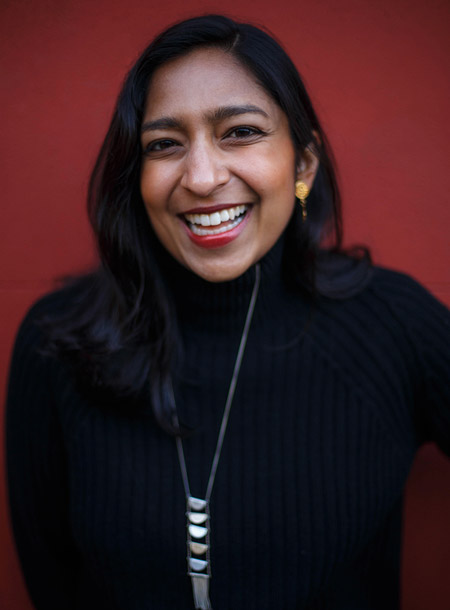 photo by Edlyn D'Souza
Priya Krishna
New York Times Food Writer
Priya Krishna is a food writer who contributes regularly to the New York Times and others, and the author of the best-selling cookbook, Indian-ish. In 2020, she was honored as one of Forbes' 30 Under 30 recipients.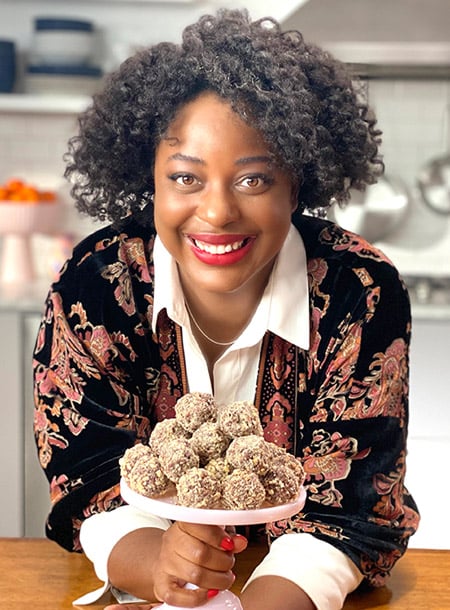 Vallery Lomas
Baker, Author and Winner of Great American Baking Show
Author of Life Is What You Bake It and host of Vallery Bakes Your Questions, this lawyer-turned-foodie built her platform from her popular Instagram and blog @FoodieInNewYork. She is the season 3 winner of the Great American Baking Show, and has since appeared on numerous popular daytime shows, including The Today Show, Headline News, Live with Kelly & Ryan, and The Chew. She is a regular contributor to NYT Cooking, Food Network Kitchen, and the History Channel, and her work can be found in Food & Wine, Better Homes & Gardens, People, Taste, Food 52, The Kitchen, and more.
Carlton McCoy
Master Sommelier, Managing Partner, Heitz Cellars and Lexus Culinary Master
Carlton McCoy Jr. earned the title of Master Sommelier in 2013 at just 28 years old, he was one of the youngest people and the second African American to earn this prestigious title. Carlton worked in revered institutions such as Thomas Keller's Per Se, Marcus Samuelsson's Aquavit, Tom Colicchio's Craft Steak in New York and most recently as Wine Director at The Little Nell in Aspen before being named President and CEO of Heitz Cellar in December 2018. To Carlton, Heitz Cellar represents a very particular style of Napa wines: ones that speak to an earlier era in California winemaking. His vision will highlight the winery's consistent focus on remaining true to its elegant, pure style. "There has to be reverence when it comes to these older brands that create the greatest wines in the country," he states. "It is fortunate that the Heitz family believed in that style and didn't change it over the years. It makes the wines the unique experience that they are."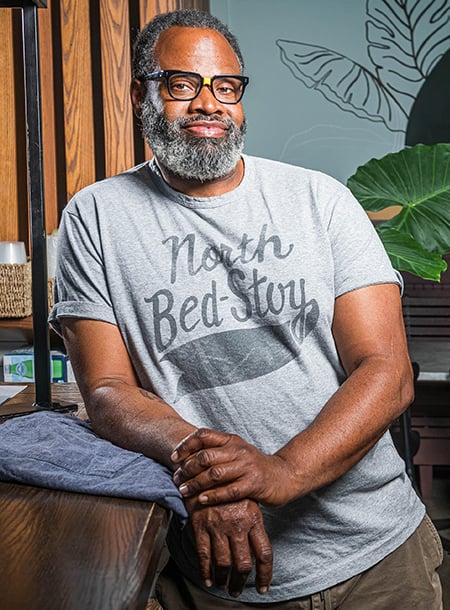 Peter Prime
Chef/Owner, Cane D.C.
Chef Peter Prime grew up with fond memories of being in the kitchen with his mother, Glenda, who inspired his love for the vibrant, multi-ethnic cuisine of his native Trinidad and Tobago.
After moving to the US for college, he earned a degree in Hospitality Management from Morgan State University and enrolled in the French Culinary Institute in NY.
Upon graduating, Chef Peter began his career as a Line Cook under Chef Joel Hatton, the Executive Chef at the Leopold Café in NY, and finished his tenure there as Sous Chef. He moved on to work with some of the most talented Chefs in the industry, including Todd Gray and Michel Richard at Equinox and Central, respectively.
At the helm of Spark, Peter's culinary talent earned him recognition from Washington Post's Tom Sietsema and a Michelin Bib Gourmand. There, he created a following for the flavors and traditions of Trinidad. Cane, Peter's most recent DC venture is his first as a restaurant owner. The vision for Cane, co-owned and run with his sister Jeanine, was to bring their favorite childhood dishes, and energetic vibe of Trinidad's rum shops, to DC diners. A testament to their concept's success, Cane has received Michelin's Bib Gourmand in both years of its existence, including recent features include Food and Wine Magazine and Eater's Guide to the World which airs on Hulu.
When not in the kitchen, Peter enjoys spending time with his wife Mary and his two sons Judah and Noah.
Chef Peter is sought after for his speaking and demonstrating his knowledge of the culinary arts and Caribbean cuisine.
Jonathan "Jonny" Rhodes
James Beard Award Nominated Chef, Executive Chef and Owner, Indigo
For chef Jonathan Rhodes, cooking is about the culture. A stint in Afghanistan while in the US Marines served as the catalyst for the now 29-year-old chef to attend culinary school at the Art Institute of Houston upon his return to the states.
After working in several high-profile restaurants including Gramercy Tavern, The Inn at Dos Brisas, and Oxheart; Rhodes was inspired to launch the Jensen Chronicles — a pop-up restaurant serving dishes inspired by Southern African American cuisine.
Named after Rhodes' childhood neighborhood, The Jensen Chronicles not only helped Rhodes hone his culinary identity, but also served as motivation for the young chef to pursue additional education via a bachelor's degree in history from the University of Houston-Downtown. Rhodes' current venture — Indigo — is a culmination of these experiences.
Making its debut in July 2018, Indigo brings a physical structure to the tastes of the Jensen Chronicles. Rhodes presents a trio of rotating five-course tasting menus that is meant to not only tantalize the senses, but also provoke conversation about the history, culture, and social experiences that have shaped and guided African American food ways.
Rhodes has since earned a semi-finalist nomination for James Beard's 2019 Rising Star Chef of the Year Award, while Indigo has earned top spots on Food & Wine, GQ, Eater and Texas Monthly's Best New Restaurants Lists as well as TIME's "World's 100 Greatest Places of 2019."
From Jensen Street to Indigo, Rhodes mission is to continue advance the culture that inspires his menus, as they represent the sacrifice and beauty of the African American experience — born out of necessity, but curated with love and skill. He strives to continue to shed light on the social responsibility of food preparation.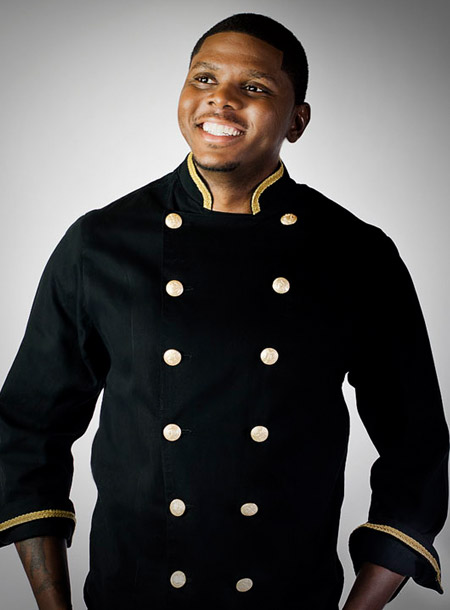 JR Robinson
Chef & Owner, Kitchencray
Harlem bred Chef James "JR" Robinson, Founder and Executive Chef of Kitchen Cray began his culinary journey at the age of 11. Inspired by watching his grandmother create unique recipes, he became obsessed with the creation of food. "JR" had a not-so-easy childhood. In and out of homeless shelters and foster care, he maintained a passion to follow his culinary pursuits as he flourished in culinary school into entrepreneurship into the limelight, featuring on Season 13 of Gordon Ramsey's Hell's Kitchen.
Robinson's professional career included stints at several high-end restaurants before he decided to branch out on his own and create Kitchen Cray with partner Sudon Williams. With locations on the H Street Corridor and Lanham, KitchenCray, prepares meals for every taste. Our mission is to change how the world views what we like to call, "The New Chef Culture." We take five-star dining experiences and recreate them to cater to every lifestyle-from the struggling student to the flourishing business executive.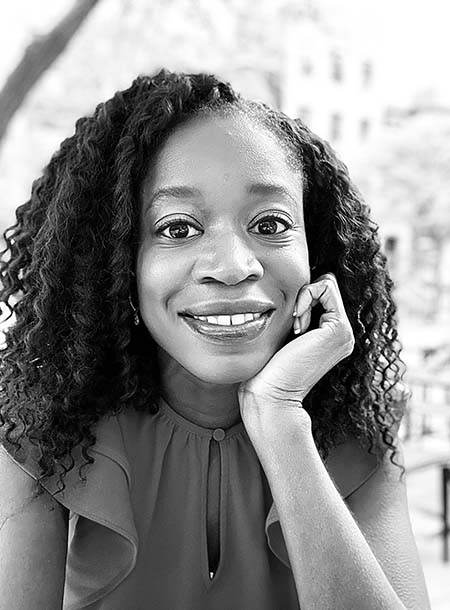 Jamila Robinson
Food Media Leader and Food Editor, Philadelphia Inquirer
Jamila Robinson is the Food Editor of the Philadelphia Inquirer where she leads a team of reporters, and directs its multiplatform food content franchise.
Previously, Jamila was an editorial director for Atlantic Media where she led content strategy projects for media companies, a senior content strategist for the USA TODAY NETWORK, where she managed editorial strategy for special projects including USA TODAY's Wine and Food Experience; a senior editor for features at The Atlanta Journal-Constitution, leading its features and entertainment team.
Jamila is the chair of the James Beard Foundation Journalism Committee, which organizes the highest honors in food media. She also serves as the coach and mentor for the JBF fellowship program. Jamila is an idea person, an avid traveler, and in her free time, coaches figure skating.
Her love language is pie.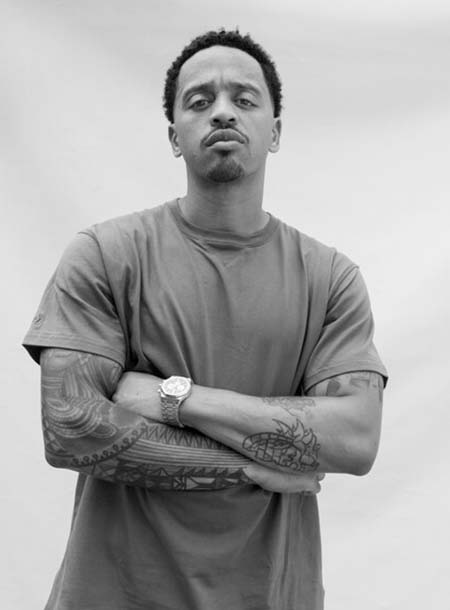 Pierre Serrao
Chef/Co-Founder, Ghetto Gastro
Growing up between Barbados and the states, Chef Pierre Serrao knew early on that the transformative power of food was his calling. Training early in his career in Italy, P's relentless curiosity and finesse landed him in Milan's top-rated restaurants.
Returning to Barbados after working his way up the ranks in Italy quickly, he led the island's culinary scene and deepened his systems-thinking approach — food as a driver of wellness and a key part of thriving communities, and culinary entrepreneurship as an avenue for creating change. A health and fitness enthusiast, Pierre marries his classically trained background with his Caribbean flair to create dishes that tell deep-rooted stories that have been savored by celebrities and school children alike.
As a co-founder of the popular culinary collective Ghetto Gastro, Pierre continues to use food as a powerful storytelling tool, marrying the personal and the political into an urgent, unflinching provocation that never sacrifices flavor and always sparks conversation.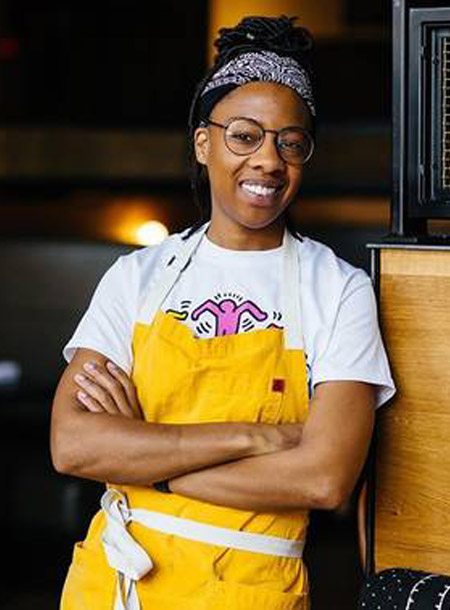 Ashleigh Shanti
James Beard Award Nominated Chef
Ashleigh Shanti is a Chef based in Asheville, NC. Her cuisine pays homage to the rich African-American culinary traditions that once thrived in Southern Appalachia and draws on her own experiences growing up in coastal Virginia. Ashleigh was named 2019 Eater Young Gun and a 2020 finalist for the James Beard "Rising Star Chef of the Year" award during her tenure as chef de cuisine at John Fleer's celebrated establishment, Benne on Eagle Restaurant.
Ashleigh's heritage has roots across Appalachia, the Southern coast stretching all the way to the Caribbean. Her happiest days as a young girl were Sundays spent in the kitchen with her family; friends would stop by to visit, eventually prepare themselves a plate, and stay for hours. These moments ingrained in Ashleigh the power of food and showed how transformative a good meal could be.
After earning her 4 year degree in Business Marketing at Hampton University then completing Baltimore International College's Culinary Arts Program in 2013, Ashleigh embarked upon a variety of culinary experiences, including a stint teaching fermentation classes at the Southern Food and Beverage Museum in New Orleans, a wine director/sous chef position in West Texas and over 10 stages at notable establishments like Jose Andres' miniBar in Washington, DC, Longoven in Richmond Ian Boden's, The Shack in Staunton, Virginia, and McCrady's in Charleston, SC.
While each of her kitchen experiences helped hone her technical expertise, Ashleigh struggled to find a cuisine that resonated with her on a personal level. It was this longing that beckoned Ashleigh to Asheville in 2018. Here, she found her culinary identity is proud to cook in the theme of Sankofa, "go back and get it" in the Twi language: progressing forward and integrating new food traditions, while looking back to history to reclaim lost and forgotten foodways.
In her spare time outside of the kitchen, Ashleigh's culinary explorations continue. She is often found foraging for wild foods or exploring the processes of fermentation. She also enjoys birding and hiking the beautiful Blue Ridge Mountains with her partner and Vizsla.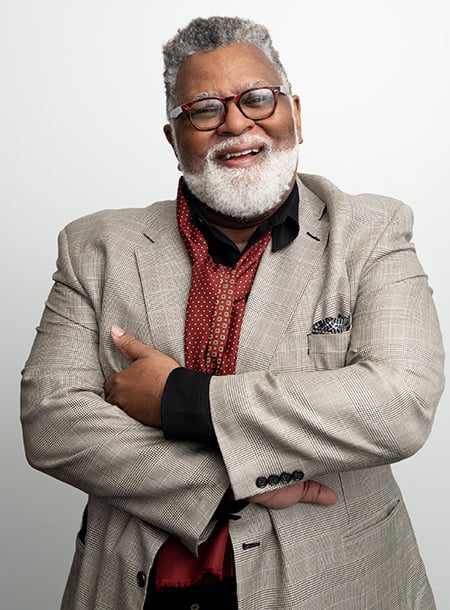 Alexander Smalls
James Beard Award-Winning Chef, Restaurateur and Author
Alexander Smalls, James-Beard-Award-winning chef, author, and raconteur, was the visionary co-owner of renowned restaurants The Cecil and Minton's. Critically acclaimed and located in the heart of historic Harlem, Minton's—the birthplace of BeBop in the 1930s—harkened back to the Jazz Age, evoking a sexy supper club, with live music and serving Low Country cuisine inspired by Smalls' childhood. His award-winning restaurant, The Cecil, NYC's first Afro-Asian-American restaurant, was named "Best New Restaurant in America" by Esquire in 2014.
A 2019 recipient of a James Beard Award for his cookbook, Between Harlem and Heaven, Alexander was recently bestowed the Creative Spirit Award from the Black Alumni of Pratt by the inimitable Ms. Cicely Tyson. His latest book, Meals, Music, and Muses: Recipes from My African American Kitchen (2020), a tribute to his South Carolina heritage and the music that inspired him, received immediate attention and praise, with appearances in both the New York Times and Food & Wine. Along with these other widely acclaimed books, Smalls has also published a memoir and cookbook, Grace the Table, which features recipes from his upbringing with Southern Revival cuisine. In 2021 Smalls signed a contract for his first children's book, soon to be published by Denene Millner Books, an imprint of Simon & Schuster.
Over the past three decades, the chef and restaurateur has traveled the world studying the cooking techniques and foodways of the African diaspora. As the former chef-owner of renowned restaurants—including Café Beulah, Sweet Ophelia's, and Shoebox Café—Smalls has received great acclaim in the restaurant scene, including cooking at the James Beard House, being named one of Zagat's "NYC Restaurant Power Players You Need to Know," and being honored with the Legacy Award in 2014 by the Amsterdam News, one of the oldest African American newspapers in the country.
With an Instagram following of 13 thousand, Smalls has appeared on a wide range of food and culinary platforms, with guest appearances on national TV, in magazines, and on news programs. He has twice served as a celebrity chef judge on Top Chef, has appeared on The Chew with Carla Hall and on Extra Virgin with Debi Mazar and Gabriele Corcos, and was recently featured in the Hallmark series Meet the Peetes. He has also appeared on The Food Network, on such shows as Recipe for Success and Throwdown! with Bobby Flay, and on NBC's The Today Show. He was featured in the cover story of the October 2020 issue of Food & Wine for his prominence as a NYC host in his beautiful Harlem home. Smalls was also a featured chef and author at the first ever New York Times Food and Wine Festival in 2019. Smalls is currently curating and opening the first contemporary African Food Hall, opening in Dubai in 2021.
In addition to his success in the culinary and literary worlds, Smalls is also a world-renowned opera singer and the winner of both a Grammy Award and a Tony Award for the cast recording of Porgy and Bess, by George Gershwin, with the Houston Grand Opera.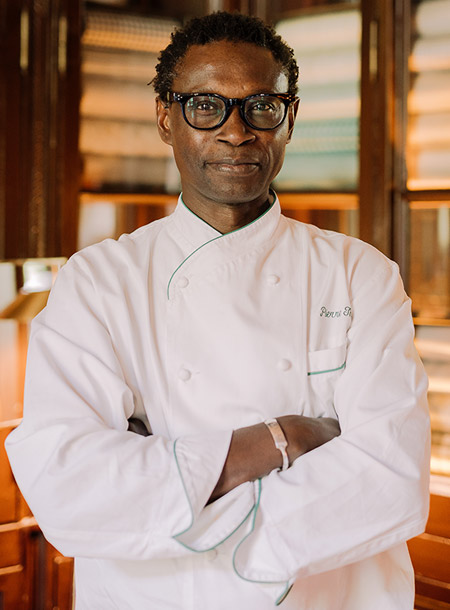 Pierre Thiam
Chef/Restaurateur/Author
Pierre Thiam is a chef, author, and social activist best known for bringing West African cuisine to the global fine dining world. He is the Executive Chef of the award-winning restaurant Nok by Alara in Lagos, Nigeria and the Signature Chef of the five-star Pullman Hotel in Dakar, Senegal. He is also the executive chef and co-owner of Teranga, a fast-casual food chain from New York City. His company Yolélé Foods advocates for smallholder farmers in the Sahel by opening new markets for crops grown in Africa; its signature product, Yolélé Fonio, is found in Whole Foods, Amazon, and other retailers across America.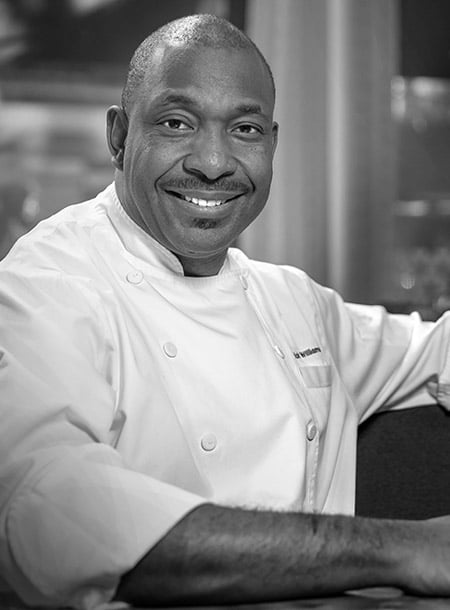 Erick Williams
Chef/Owner, Virtue Restaurant & Bar
It is with inimitable persistence, passion, and drive to propel today's dining experience that Erick Williams — Owner and Chef at Virtue Restaurant & Bar — has carved a special niche in the restaurant industry. Opened in November 2018, Virtue is Williams' first solo concept, and is nestled in the heart of the historic Hyde Park neighborhood, located on Chicago's south side. The restaurant, which attracts guests both from throughout Chicagoland and around the globe, unites his 25 years of fine dining expertise, his love of Southern cuisine and his insatiable study of history and art as they relate to food culture.
A Chicago native with a formidable career, Williams' foray and eventual establishment in the culinary scene began at mk The Restaurant working alongside admired chef Michael Kornick. His home for nearly two decades, Williams held the position of Executive Chef at mk, where he was extolled for his farm-to-fork, seasonal approach.
During his tenure, the restaurant amassed a fiercely loyal patronage while consistently receiving accolades from coast to coast.
The expertise Williams built over the years is reflected at Virtue with his precise sense of timing, immaculate presentation, deeply considered menu and a mantra of leading every guest experience with kindness. Since opening, Williams and Virtue have been featured in a host of local and national journals and television programs. The New York Times named him one of America's black chefs changing food dialogue in America (2019). Virtue also earned its place on Esquire magazine's annually anticipated list of Best New Restaurants (2019). Television writer and producer Phil Rosenthal included Williams in his hit Netflix series, "Somebody Feed Phil" (debuting summer 2020). Williams also received a coveted Award nomination by the James Beard Foundation in the Best Chef Great Lakes category (2020).
A natural orator, Williams was a featured speaker at the Philly Chef Conference (2019) and was named a Smith Symposium Fellow by the Southern Foodways Alliance (2019). On multiple occasions, Williams has had the honor of organizing and serving high-profile events for civic leaders and celebrities, both on his own and alongside fellow industry leaders nationwide. Outside of the restaurant, he donates his time and talent to those less fortunate by partnering with charities across the region. He is particularly devoted to making a positive impact on the future of Chicago's inner-city youth.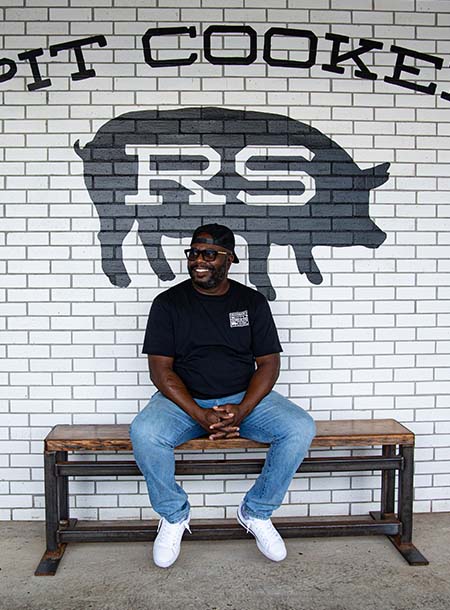 photo by Angie Mosier
Rodney Bryant Scott
James Beard Award-Winning Chef and Pitmaster, Founder & Owner, Rodney Scott's Whole Hog BBQ
Rodney Scott has been cooking whole-hog barbecue, over wood coals since he was 11 years old. For 25 years he worked in his family's bbq business in Hemingway, SC until 2017 when he opened Rodney Scott's BBQ in Charleston, SC. That same year the restaurant was named one the 50 Best New Restaurants by Bon Appetit Magazine and in 2018, Scott won the James Beard Foundation's award for Outstanding Chef Southeast. In 2019 Rodney Scott's BBQ a second location in Birmingham, AL with an Atlanta, GA location scheduled for Summer 2021. In 2020 Netflix featured Rodney in an episode of their acclaimed series, Chef's Table and he has just written his first book, Rodney Scott's World of BBQ. Rodney is a member of the Southern Foodways Alliance, The James Beard Foundation and The Fellowship of Southern Farmers, Chefs and Artisans.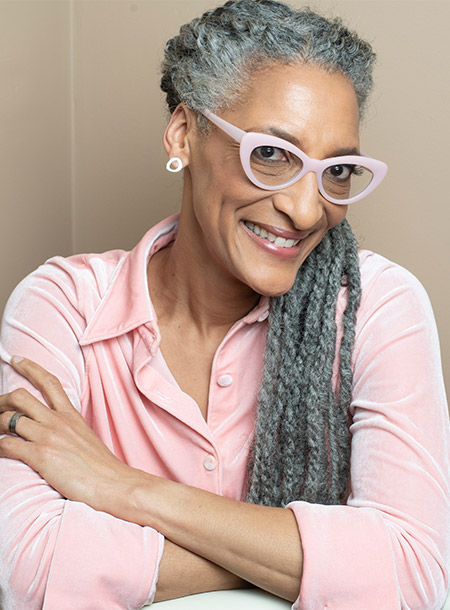 Carla Hall
Chef, Restaurateur, Author
Carla Hall first won over audiences competing on Bravo's "Top Chef" and "Top Chef: All Stars". She co-hosted ABC's Emmy award winning, lifestyle series "The Chew" and she is a featured host and judge on Food Network. Carla also has a weekly podcast "Say Yes with Carla Hall" and her latest cookbook, Carla Hall's Soul Food: Everyday and Celebration, was published in 2018, making multiple "Best Cookbook" lists and receiving an NAACP Image Awards nomination.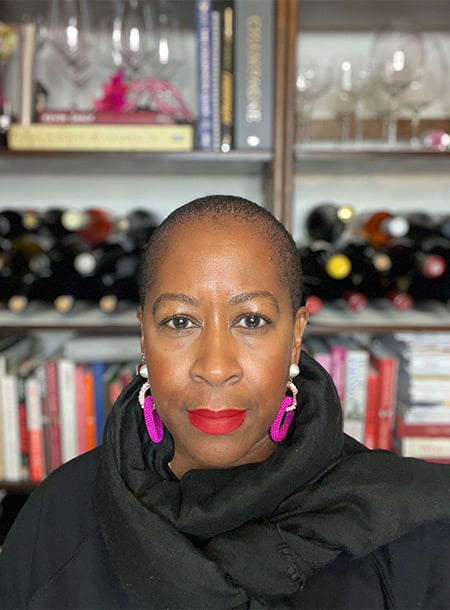 Julia Coney
Sommelier, Wine, Travel & Lifestyle Journalist, Wine Educator, Speaker, Consultant at Julia Coney, LLC, Founder of Black Wine Professionals
Julia Coney is a Washington, D.C. and Houston, Texas-based wine writer, wine educator, speaker, and consultant. Her wine writing includes stories on wine, winemakers, and the intersection of race, wine, and language. She holds a WSET Level Two Certification in Wine and Spirits and is currently pursuing her Master Level Champagne Certification with the Wine Scholar Guild and WSET Level Three Certification.
Julia is the recipient of Wine Enthusiast's 2020 Social Visionary Award Winner for her work in writing and speaking on diversity, equity, and inclusion in the wine industry.
Julia is the Founder of Black Wine Professionals, a resource for wine industry employers and gatekeepers, professionals, and the food and beverage community. Their goal is to lift up the multifaceted Black professionals in the world of wine.
Julia is a Contributing Editor for VinePair , the world's largest online drinks platform. Her work has been featured inThe New York Times, Wine Enthusiast, Thrillist , The Tasting Panel , Plate Magazine , Forbes.com , WineEnthusiast.com , The Washington Post , Seven Fifty Daily , Wine Searcher , the Financial Times, JancisRobinson.com , Glamour, Essence, and numerous print and digital publications. Julia is a 2019 Fellow of the Professional Wine Writers Symposium at Meadowood Napa Valley. Julia has spoken at conferences such as wine2wine , Assemblage Symposium , The Culinary Institute of America's Summit for Sommeliers and Beverage Professionals , and Bâtonnage Forum . You can find her on all social media at @juliaconey and her website juliaconey.com .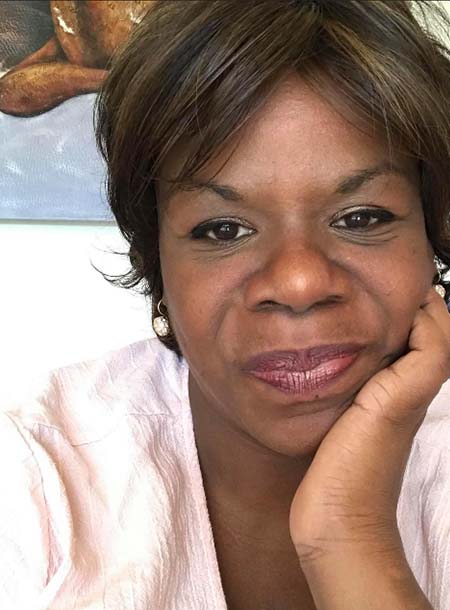 Nadine Brown
Sommelier, Founder of At Your Service
A native of Jamaica and Puerto Rico, Nadine worked in Social Work before finding her love of wine. Nadine is a 20-year veteran of the Washington D.C. area restaurant industry. She spent over 14 years as wine director and Sommelier of Charlie Palmer Steak on Capitol Hill. Early in her career she was recognized by Star Chefs as a rising star Sommelier. She has worked in diverse front of the house positions from captain, general manager/sommelier to managing partner. Nadine is also a board member of the Restaurant Association that represents the District of Columbia, Virginia and Maryland as well as board member of the Verasion project. The Verasion Project is a new nonprofit, tasked with increasing diversity in the wine industry. Nadine holds certifications from both the court of master sommelier and the WSET, she is a wine judge participating in competitions including the Virginia Governor's Cup and TexSom International Wine Awards. She is part of the team of wine writers on Monarch Publications. Nadine founded At Your Service, where she offers wine education, events and consulting. She is an advocate for women, especially mothers in the hospitality industry. She is a proud mother of two.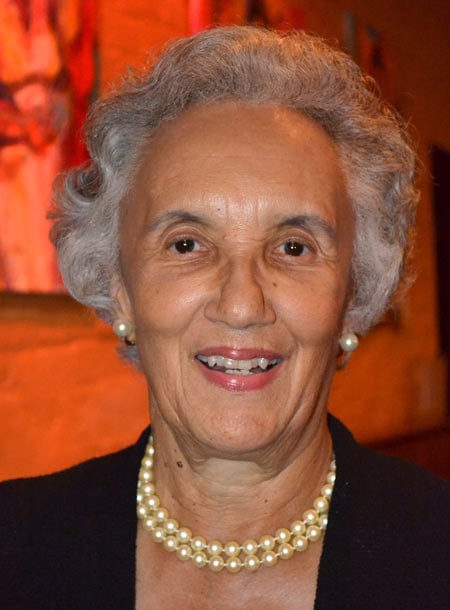 Virginia Ali
Chef and Founder, Ben's Chili Bowl
Virginia Ali is a truly incredible woman. Her earthly life began on her parents' Virginia farm on December 17th, 1933, and today she is as vibrant as ever. She smiles whenever recounting her fond memories of childhood on the farm, her deep involvement in her family's country church, her college studies at Virginia Union University, and moving to Washington, DC as a young woman to find her destiny.
As her beloved DC community knows so well, Virginia's historic destiny found her the day she met Ben Ali, her husband and partner in life, love, family, and business. The dynamic newlyweds opened the doors of the now iconic Ben's Chili Bowl on August 22, 1958. Today, 63 years later, this institution has become a place of fond memories for countless friends from DC, Maryland, Virginia, and all around the world.
Known affectionately as "Mom" or Mrs. Ben, Virginia has touched the lives of everyone she has encountered. Although she has achieved near celebrity status, her demeanor has never changed – with all her natural poise and sophistication, she still exemplifies the pure, wholesome values instilled by her parents. She lives a philosophy of giving love and kindness to everyone she meets, and as a result she is cherished and respected in a way that is very rare these days. In fact, at this point she is considered the "Matriarch of U Street" and countless DC residents call her "Mom."
In addition to all the hours she has put in at Ben's Chili Bowl, Virginia has also made time for many other meaningful endeavors. She has served on the Board of Directors of For Love of Children, The Thurgood Marshall Center for Service and Heritage, the Islamic Society of the Greater Washington Area, and Cultural Tourism DC among others. Over the years, Virginia and Ben have received countless awards and accolades including the prestigious America's Classics Restaurant Award from the James Beard Foundation. They were inducted into the DC Hall of Fame in 2002 and were later given the Key to the City by Washington, DC Mayor Adrian Fenty. More recently, the Smithsonian placed Ben's Chili Bowl on its list of the 20 Most Iconic Food Destinations Across America.
With all that she has accomplished thus far, Virginia isn't resting on her laurels. As her family, friends, and employees will attest, she is a true dynamo who encourages those around her to live fully and strive for excellence in all areas of life. She gives generously of herself and her time, and despite all the recognition and accolades, she is perhaps best known for her kind, loving nature and her very sound wisdom. Virginia is truly a people person, and we are all very thankful for everything she gives us by simply being herself.
For more information on Mrs. Ali, contact Vida Media Group: [email protected] or (310) 859-4730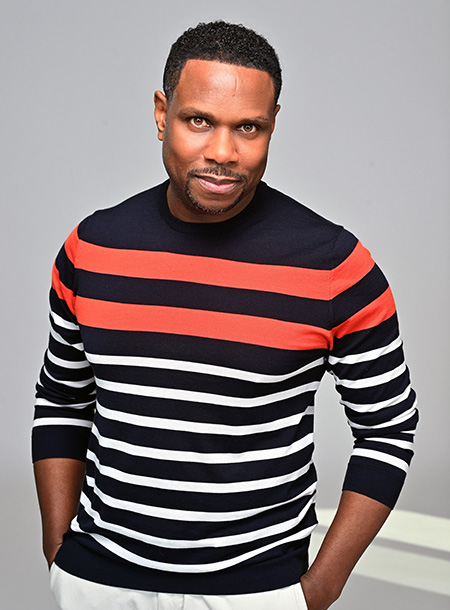 Nolan Williams, Jr.
American Composer, CEO of NEWorks Productions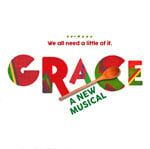 Nolan Williams, Jr. is best described as a creative force. An award-winning artistic producer, American composer, music director and cultural curator, the multi-hyphenate Williams uses his art to commemorate, educate and uplift. His body of work includes choral/orchestral works premiered by major American orchestras; music for television; songwriting credits on two Grammy-nominated projects; arts and educational festivals produced in partnership with The Kennedy Center and Philadelphia's Mann Center; cultural programming developed with the Smithsonian, U.S. State Department, and the Embassies of India, France and South Africa; video/documentary projects; and a slate of theatrical productions, including his new Broadway-bound musical, GRACE, which is being featured during this festival enroute to its world premiere at the historic Ford's Theatre (Washington, D.C., Spring 2022).
Concerning his music, The Philadelphia Inquirer asserts, "Williams has a musical language all his own. It brims with vernacular American optimism..."
In recognition of his broader artistic work and impact, he was named one of The Kennedy Center's inaugural Social Practice Residents in 2019 and was presented, in the same year, The Kennedy Center's National Performing Arts Committee's 2019 Arts Advocacy Award.
Most recently, Williams' inspiring work has garnered three 2021 Telly Awards Bronze Prizes including: Best Social Impact Video for his viral voting rights anthem, "I Have A Right To Vote" and Best Non-Scripted Online Series and Best Food & Beverage Online Series for his #ByGrace Live Chat Series, co-hosted by Williams and celebrity chef Carla Hall. These two award-winning projects, co-produced with Dale A. Mott/Edgewood, have, to date, reached a combined global audience of nearly two million.
A resident of Washington, D.C., Nolan is CEO of NEWorks Productions.
For more information, visit nolanwilliamsjr.com.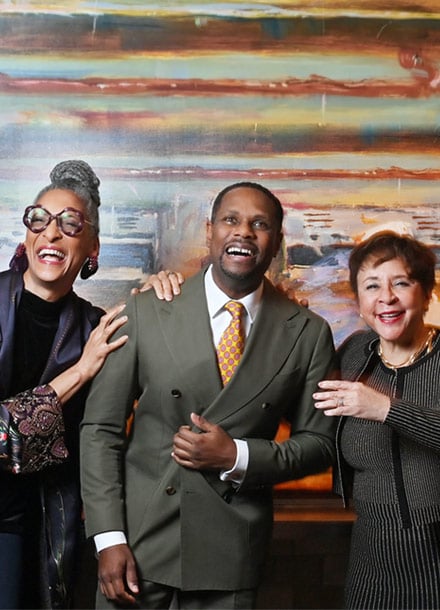 Grace the Musical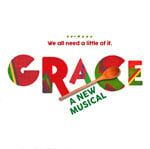 Take one family. Add a dash of hope, a sprinkle of spice, and a heaping handful of love, and you've got a recipe for pure theatrical joy. Packed with an eclectic mix of styles including jazz, R&B, rousing up-tempos and raise-the roof ballads, Grace is a musical feast inspired by the little-told history of African-American culinary tradition and the challenges faced by Black-owned businesses.
Conceived and composed by Nolan Williams, Jr., the Broadway-bound Grace captures a day in the life of the Mintons, a Philadelphia family who gather to mourn the loss of their matriarch and deal with the future of their family restaurant in a changing neighborhood. Heartfelt and hopeful, timely and timeless, Grace is the new American musical where, although family comes first, everyone has a seat at the table.
Grace will enjoy its world premiere at the historic Ford's Theatre in Washington, D.C. from March 18 through May 14, 2022. For ticket information, visit gracethemusical.com.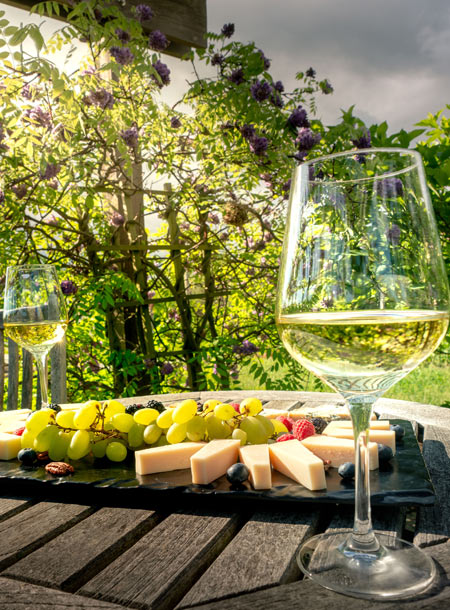 The Family Reunion Wine Talent
Tahiirah Allen
Andy Meyers
Kelly Mitchell
Felicia Colbert
Tonya Pitts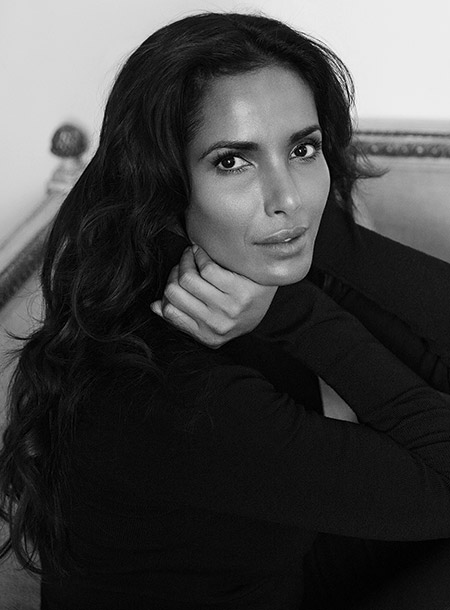 Padma Lakshmi
Television Host, Producer and The New York Times Best-Selling Author
Padma Lakshmi is an Emmy-nominated food expert, television host, producer and The New York Times best-selling author.
She is the creator, host, and executive producer of the critically acclaimed Hulu series Taste the Nation, which received a 2021 Critics Choice Real TV Award for Best Culinary Series and a 2021 Gotham Award for Breakthrough Series. The series has been greenlit for a second season.
Lakshmi also serves as host and executive producer of Bravo's two-time Emmy-winning series Top Chef, which has been nominated for 32 Emmys, including her two-time nomination for Outstanding Host for A Reality-Competition Program. Its new season will be premiering in spring 2021.
Lakshmi is co-founder of the Endometriosis Foundation of America (EFA) and an American Civil Liberties Union (ACLU) Artist Ambassador for immigrants' rights and women's rights. Lakshmi was also appointed a Goodwill Ambassador for the United Nations Development Programme (UNDP).
Born in India, she grew up in the United States, graduating from Clark University with a Bachelor's Degree in Theatre Arts and American Literature. Known as India's first supermodel, she began her career as a fashion model and actress working in Europe and the United States.
Lakshmi established herself as a food expert early in her career hosting Padma's Passport, where she cooked diverse cuisine from around the world and Planet Food, a documentary series, both on the Food Network domestically and worldwide on the Discovery Channel. She also co-hosted Rai Television's Domenica In, Italy's highest-rated variety show.
She's a prolific author, writing the best-selling Easy Exotic, which won the "Best First Book" award at the Gourmand World Cookbook Awards. Lakshmi followed this with the publication of her second cookbook, Tangy, Tart, Hot & Sweet and her memoir The New York Times best-selling Love, Loss and What We Ate. She later published The Encyclopedia of Spices & Herbs. In August of 2021 she will publish her first children's book Tomatoes for Neela.
In addition to her food writing, Lakshmi has also contributed to Vogue, Gourmet, both British and American Harper's Bazaar, as well as penning a syndicated column on fashion and food for The New York Times.
Lakshmi created a fine jewelry line The Padma Collection, which sold at Bergdorf Goodman, Neiman Marcus and Nordstrom. She also designed a home décor line under the same name featuring tabletop dishware, stemware and hand-blown glass décor pieces, was sold nationwide in Bloomingdale's. In addition, Lakshmi created Padma's Easy Exotic, a collection of culinary products ranging from frozen organic foods, fine teas, natural spice blends and home goods. In 2018, Lakshmi collaborated with MAC Cosmetics for a worldwide capsule collection called MAC Padma which quickly sold out in both India and the United States.
After unknowingly suffering from endometriosis for decades, in 2009 she co-founded the Endometriosis Foundation of America (EFA) alongside Advanced Gynecological Surgeon Tamer Seckin, MD. The EFA launched the first interdisciplinary research facility in the country for Gynepathology, as a joint project between Harvard Medical School and MIT and Lakshmi gave the keynote address at the Center's opening in December 2009.
Her efforts were recognized on the floor of the New York State Senate, where she succeeded in passing a bill related to teen health initiatives. The organization's ENPOWR program has currently educated over 32,000 students about endometriosis in high schools across the state of New York.
Lakshmi is a visiting scholar at Massachusetts Institute of Technology (MIT) and has received the 2018 Karma Award from Variety, as well as the 2016 EIHS Ellis Island Medal of Honor.
She lives in New York with her daughter.