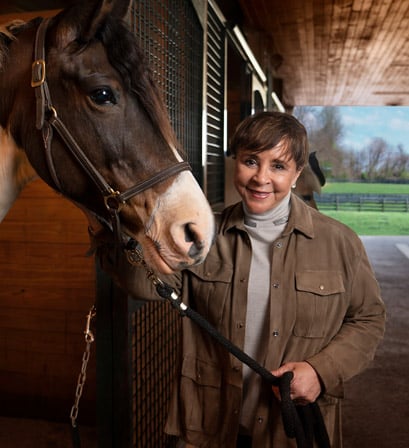 "Inspiration will find you in places you never imagined."

— Sheila C. Johnson
Founder & CEO

Learn More
Prem Devadas

President

Dale Pelletier

CHIEF FINANCIAL OFFICER

Tracey Slavonia

CHIEF SALES & MARKETING OFFICER

John Speers

VICE PRESIDENT OF OPERATIONS

Theresa Silo

VICE PRESIDENT OF HUMAN RESOURCES
Prem Devadas, President, is a 25-year veteran of the hospitality industry. After ten years with The Potomac Hotel Group in Washington, D.C., he left the Regional Director of Operations position to manage the lodging portfolio for CCA Industries whose holdings include The Jefferson Hotel in Richmond, VA, The Hermitage Hotel in Nashville, TN and Kiawah Island Resort near Charleston, SC. As Managing Director, he repositioned the Jefferson Hotel and the Hermitage Hotel through extensive renovations, and achieved Mobil Five Star and AAA Five Diamond awards for the respective properties. At Kiawah Island, he directed the development and successful opening in August 2004 of The Sanctuary at Kiawah Island, the new 255-room ultra-luxury hotel, which is hailed as one of the world's best.
Dale Pelletier, Chief Financial Officer, is a 40-year veteran of the hospitality industry. Dale oversees the company's financial, accounting, tax, information systems, treasury, planning and reporting activities. His extensive experience with more than 80 hotels includes full-service, limited-service, all-suite, resort and condominium hotels both at the property and corporate levels. Dale also served as Chief Financial Officer for MEI Hotels, a hotel development, ownership, management and investment group. He was responsible for all financial activities for the company's managed and asset managed hotels, construction and development projects and three private equity funds. Prior to MEI, Dale was Chief Financial Officer for the U.S. operations of City Hotels, an international hotel and airline company that has hotels in the U.S. and Europe and is listed on the Brussels Stock Exchange.
Tracey Slavonia oversees revenue development including sales, marketing, communications and revenue optimization for Salamander's growing portfolio. Slavonia has also previously served as chief marketing officer for Enchantment Group based in Scottsdale, Arizona. Prior, she served as the chief marketing officer for Canyon Ranch, overseeing their portfolio in Arizona, Florida, Las Vegas, Massachusetts, Turkey and the At Sea division. Additionally, she served as the vice president of sales and marketing for Miraval Holding for four years with oversight for their assets in New York and Arizona. Tracey, a native of Pittsburgh, Pennsylvania, earned a bachelor of science degree in Aeronautical Engineering from Embry-Riddle Aeronautical University in Prescott, Arizona before beginning her hospitality career with Hilton in Phoenix. Earlier in her career, she held leadership positions with PGA National Resort & Spa in Florida; The Wigwam in Arizona; KSL Resorts and St. Regis Monarch Beach in California.
John Speers, Vice President of Operations, oversees day-to-day operations of the company's hotels and resorts. He brings an exceptional background in luxury and Five Star/Five Diamond operations, having previously served as Senior Vice President overseeing properties such as Chatham Bars Inn and the Inn at Perry Cabin, as well as the Managing Director for The Little Nell Hotel, Residences at Little Nell, and The Aspen Mountain Club. Speers has previously served as General Manager of Faena Hotels in Miami Beach, as Resort Manager of Four Seasons Jackson Hole in Teton Village, WY, and as Director of Food and Beverage at Four Season Chicago. He began his career as an Executive Assistant Manager, Director of Food and Beverage at The Ritz-Carlton Palm Beach in Florida. Prior to joining Ritz Carlton, he was the General Manager of acclaimed restaurant's in San Francisco and New York City.
Theresa Silo, Vice President of Human Resources, is directly responsible for the human resources departments throughout the Salamander portfolio. A seasoned and respected industry leader, her experience features leadership roles at some of the country's most decorated properties. Silo spent 14 years at Kiawah Island Golf Resort in two spells, working as both director of human resources and the director of operations at the Kiawah Island Inn. She has also served as the general manager of The Hermitage Hotel in Nashville, TN; director of operations at the Waldorf Towers in New York, NY; and front office manager at The Jefferson Hotel in Richmond, VA.
Corporate Team Members
Chris King

CHIEF DEVELOPMENT OFFICER

Ty Brassie

VICE PRESIDENT OF SALES & MARKETING
As Chief Development Officer, Chris King is responsible for creating and implementing new business development strategies aimed at growing Salamander's portfolio through third party managed hotels and resorts in the US, Canada and the Caribbean. He joined Salamander after four years with Brookfield Asset Management in Washington, D.C., where he was Vice President of Real Estate Investments and oversaw $2 billion in hotel transactions. Chris has also served as Vice President of Diamond Rock Hospitality Company and Director of Development Finance at Marriott International. He holds a Masters of Business Administration with a finance concentration from the University of Maryland's Robert H. Smith School of Business.
Ty oversees Salamander's sales, marketing, communications and revenue development, and executes the company's overall revenue strategy working closely with Salamander's CMO. Prior to moving to the corporate team, he was Director of Sales & Marketing at Hammock Beach Resort, and he has also held senior leadership positions at iconic properties and collections, including Evolution Hospitality, Ritz-Carlton, Starwood and KSL Resorts Group.
Christopher Walling

VICE PRESIDENT OF OPERATIONS

Learn More

Matt Owen

VICE PRESIDENT OF COMMUNICATIONS

Learn More

Brian Covington

VICE PRESIDENT OF REVENUE OPTIMIZATION

Learn More

David Millar

VICE PRESIDENT & CORPORATE CONTROLLER

Learn More

Elizabeth Martin

CORPORATE DIRECTOR OF MARKETING

Learn More

Michelle Long

CORPORATE MARKETING MANAGER

Learn More

Deb Thomas

ASSISTANT CORPORATE CONTROLLER

Learn More

Jim Busch

CORPORATE DIRECTOR OF PROJECT MANAGEMENT

Learn More

Katy Banagan

SENIOR ACCOUNTANT

Learn More

Tashea Lowery

CORPORATE DIRECTOR OF HUMAN RESOURCES

Learn More

Jenny Greenlief

CORPORATE DIRECTOR OF TRAINING

Learn More

Helaine Carver

EXECUTIVE ASSISTANT TO THE PRESIDENT

Learn More

Annie Heffernan

CORPORATE MARKETING SPECIALIST

Learn More

Violeta Borgonia

ACCOUNTANT

Learn More

Cathy Turner

CORPORATE SALES & MARKETING SYSTEMS SUPPORT MANAGER

Learn More

Carla Jean-Thomas Carroll

DIRECTOR OF GLOBAL SALES

Learn More

Steven Lewis

DIRECTOR OF GLOBAL SALES

Learn More

Da'Mario White-Molina

HUMAN RESOURCES COORDINATOR

Learn More

Daniele Ceccato

CORPORATE TRAINING MANAGER

Learn More
Matt is responsible for overseeing communications efforts for Salamander, including media relations, social media and crisis communications. Working closely with owners and developers, he has overseen numerous successful publicity efforts for Salamander hotel openings. A former award-winning newspaper journalist, Matt previously served as Public Relations Director for Kiawah Island Golf Resort - overseeing the opening PR program for the acclaimed Sanctuary at Kiawah Island.
Brian leads Salamander's Revenue Management function and is responsible for driving growth through product strategy, pricing optimization & yield management. Prior to Salamander, Brian held corporate leadership roles with Kimpton Hotels & Restaurants, Hilton Worldwide, Choice Hotels International & the Hersha Group, recently serving as Commercial Director for Hilton's Full-Service Category comprised of over 1,000 hotels globally with annual revenue of $17 billion.
David is responsible for Salamander's financial and accounting practices. A certified CPA, David worked with Benchmark Hospitality as Controller and Interim General Manager of Lansdowne Resort in Virginia, prior to joining Salamander. He also worked for OneMain.com, Promus Hotel Corporation, Doubletree Hotel Corporation, Metro Hotels, Guest Quarter Hotels, and Hilton Hotels.
Elizabeth is responsible for the planning and development marketing initiatives and strategic communications for Salamander Hotels & Resorts. She champions media plans in areas of awareness, demand generation, web development and analytics, including the corporate media strategy and planning. Additionally, she oversees CRM health and email communication strategies and maximizes opportunities on online channels to achieve property revenue goals.
An experienced finance professional, Deb is responsible for a variety of Salamander's accounting procedures, including budgeting and forecasting, as well helping ensure the company and each property achieves revenue goals. Prior to serving in her corporate role, she worked as the Director of Finance for the 168-room Salamander Resort & Spa, helping the property successfully launch and operate profitably.
Jim has over 20 years of quality management experience in rooms and food and beverage operations, and is a key participant in new openings and management transitions. His directly manages of major renovations and construction projects, making him a valuable resource in delivering various new projects on time and on budget. He is also responsible for supervising facilities maintenance issues at the corporate level.
Katy has a variety of accounting responsibilities at Salamander, including processing bi-weekly payroll at the Corporate Office. She leads the process for all payroll journal entries, accruals, reconciliations, W2 reviews, worker's compensation and general liability insurance audits. She has over 15 years of experience of accounting and auditing work, previously spending time in the accounting office for American Woodmark Corporation and also serving as an auditor at PriceWaterhouseCoopers.
Tashea is responsible for the administrative and strategic human resources efforts at the Salamander corporate level, as well pre-openings for new properties. She has over 15 years of experience in corporate human resources as a business partner and generalist. She previously worked in the corporate office for Day & Zimmermann, a privately held construction, engineering and staffing company, and operating 150 locations worldwide.
Jenny is responsible for overseeing training and development throughout the Salamander portfolio. She works with certified department trainers at each property, as well as human resources directors and general managers to maintain standards and improve processes. A graduate of University of Mary Washington, Jenny began her hospitality career at Salamander Resort & Spa, where she served as Training Manager for three years before joining the corporate team.