Chris Cone
Night Audit Relief Manager
Hotel Bennett
Charleston, SC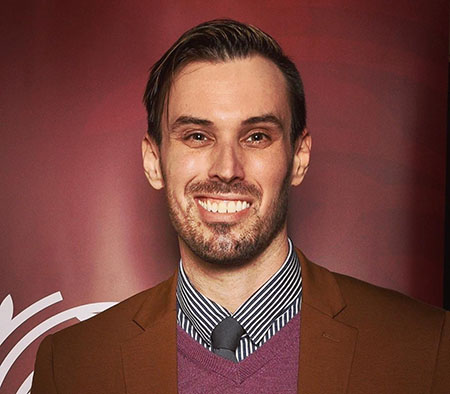 Choose One
Ocean or Mountains?

Mountain Air

Dog or Cat

Meow

Sweet or Savory

Sweet Tooth

Coffee or Tea

Cup of Joe

TV or Book

Page Turner

Sunrise or Sunset

Night Owl

Phone Call or Text

Fast Typer
---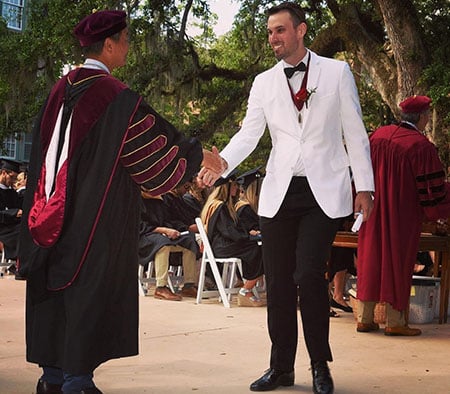 About
Place of Birth

Summerville, SC

Current City You Live In

Summerville

How long have you worked here?

A little over 3 years
---
QUESTION & ANSWER
What attracted you to this property or what was your first impression of this property?

I was attracted to the benefits, the schedule, and the opportunities that were presented to me that would allow me to continue my education while working overnight. I was initially drawn to the design of the hotel and how it incorporated the original pink granite that was on the exterior of the building when it was the library. Additionally, the murals, and some of the artwork expressed the history of Charleston. I appreciated the attention to detail.

What makes you passionate about the hospitality industry?

A lot of people that visit Charleston are here for the experience, and as a history major I'm able to speak with people that stay with us about the local area, so there's always something new to learn and share with guests. I'm hopeful they end up loving it like I do.

What's one thing most people don't know about you?

In school, as well as for fun, I research properties and the people that lived in them in the past to understand its significance in hopes of preserving these historic structures while telling its entire narrative.

What are some of your favorite hobbies?

Reading, exercising, and sketching

In your opinion, where is the best spot to visit at the resort and why?

There is the rooftop area where you can see some stunning views of the city, but also, the Piazza on the 3rd floor offers a private area that overlooks Marion Square. It isn't featured often, so guests are not always aware of its existence, but it's a nice place to relax and enjoy the view

Who is your hero and why?

I don't tend to think of people in that fashion, but if I had to say anyone, it would be my parents. I appreciate what they've had to do to give me a good life, and the work ethic that they instilled in me.

What travel destination is on your bucket list?

Scotland, and Ireland. I'm visiting Scotland this Summer!

What is a goal (big or small) that you hope to achieve in the next five years?

I hope to publish an article.

Name three people you would like to invite to dinner.

I would invite Nic Butler, our local archivist and blogger for the Charleston County Library. I enjoy his stories about Charleston. I would also invite my professors at the College of Charleston, Dr. Grant Gilmore, an archaeologist, and Professor Brittany Lavelle-Tulla, an architectural historian. This combination would be an interesting one, as I love history so I know there would be no end to it.

Last book you read?

Black Charlestonians: A Social History, 1822-1855 by Dr. Bernard Edward Powers, Jr.

Historical event you would have liked to witness?

The Crystal Palace in Hyde Park, London as a part of the Great Exhibition of 1851

Favorite Sports Team?

I'm not a sports person.

Favorite Food?

Anything Mediterranean or Italian

Favorite Music?

I kind of like it all!

Favorite TV Show or Movie?

Dark Shadows

Any other background information you would like to share?

The only other thing I would like to share is how I appreciate the people that I work with. They understand that I work overnight and do school during the day, and often work with me. I've never worked for a company quite like this where they take the motto of "Be Kind" to heart. As a result, some of my coworkers have become family. I appreciate them, and hopefully the feeling is mutual.